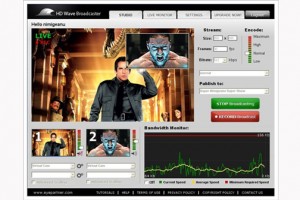 We are living the future and the future is now with live video streaming. Live video streaming is about running video content and broadcasting it live over the Internet. This creative new technology introduces endless possibilities associated with video streaming, and the current communications world knows it's time to step up and into this exciting format, or be left behind. Live video streaming may be considered the best technology yet developed with exponential advantages for marketing, teaching, sharing information and advertising. Individuals, businesses, groups and organizations use video streaming to promote their businesses, merchandise, events and other offerings to people on the Internet with great success.
Uses of Live Video Streaming
The uses for live video streaming are increasing everyday as the culture becomes more accustomed to this technological advancement as a way of life. Here are some uses:
• Live video streaming allows universities to conduct classes with students from different parts of the world. Online classes are used widely to grant greater access to university courses.
• Students can record live classes and review them at a later time. It also allows teachers and instructors to conduct classes in the comfort of their own home and office.
• Online meetings, conferences and other business endeavors can be conducted online, involving different departments situated in far places. The cost of transportation is greatly reduced with the use of live video streaming.
• Production costs for creating an in-studio video are greatly reduced. There is no more need for a staff and crew, just a core group is enough to host and broadcast a video stream.
• Video streaming can be done using a webcam or a digital camera. There is no more need to use a high-end, bulky video cameras used in studios to make videos.
• Live video streaming reaches more customers by streaming their commercials online.
• Streaming television events online allows people without access to television to watch live events through their computers. Concerts, sports events, and award shows are just some of the television events that produce millions of viewers on the Internet.
•    Blog owners can employ this technology to post videos that their followers can watch.
In all fields, the demand for efficient and current communication is high and steadily rising. One seeks a medium that is affordable, accessible and most importantly, reliable, and a system that enables immediate up-to-date interchange – this is it.

Best Software for Live Video Streaming
While uploading and distributing video clips is a part of everyday life now and has only gotten easier with time, engaging in live, real-time broadcasts, live video streaming has remained the mainstay of advanced internet users with in-depth knowledge of video codecs, streaming protocols, and streaming server applications. However, this is beginning to change with new software options that have been released through Eyepartner.
Typically there are two types of live streams that are used and shared on the Internet – "screencast" and "live action content." Screencast involves recording the computer's screen itself, displaying gameplay, tutorials, or pre-recorded content with which the broadcaster interacts. The screencast is uploaded to the Internet in Real Time and users can then watch, listen, and learn, as the broadcaster uses their screen as an instructional tool or entertainment device.
This broadcasting method has previously been the domain of those with advanced Internet tools and knowledge and used primarily as a teaching tool to advance broadcast and gaming techniques. Eyepartner is changing this with their new software called the HDWave.

The HDWave
Eyepartner is a company leading the way in the revolution in digital streaming and broadcasting availability. The HDWave software is designed specifically to broadcast screen content in real time to internet users around the world. It does so in high definition, meaning that even software tutorials are seen in great quality with no sacrifice of instructional integrity.
The HDWave can be used to broadcast real-time game play, instructional screen sharing videos, and even downloaded movies. Features that competing software developers brand as premium or pay per add-ons are considered standard and necessary with the HDWave. Broadcasting users of the software are given a real-time preview of the content they're sharing, and can specify and edit the program broadcast rather than having to use the entire general computer screen. This prevents broadcasts of personal data or sensitive information and system preferences and allows for a more edited and personalized broadcast. Because Eyepartner is heavily involved in the development and deployment of new IPTV services, the HDWave user content can be streamed to IPTV networks and other internet-connected devices virtually without any additional configuration. This enables the broadcaster to have their content seen by an even wider audience than with other software.

TikiLIVE
Screencasts are not the only form of streaming media that is taking the Internet by storm. Live action content is a far more popular and in prevalent use. These broadcasts are user-created videos featuring themselves, their friends or scripted content that they create, produce and broadcast. Many independent content producers are investigating live action content as a way to reproduce the excitement of existing television channels while avoiding the high cost and process entailed with television or video production. This is creating an entirely new video form, and it is also creating new art forms.
Whereas the HDWave software is developed for screen casting and broadcasting existing movies to viewers, Eyepartner has developed the TikiLIVE set of applications and settings to enable live streaming content to be broadcasted globally in high definition. Broadcasters who wish to share this content sign up for a web-based TikiLIVE account to compliment the installation of the corresponding software. This web server enables the connection between a camera's real-time recordings and its ability to be broadcast online to hundreds of users. TikiLIVE is simple and cost-effective, and a great way to make a significant investment in the future of online broadcasting. After setting up an account with TikiLIVE, simple coordinated desktop application adjustments link the customer's computer and the Eyepartner remote web servers, allowing for transmission and recording of video and audio data. After a successful test run, and in short order, the first audience is invited to view a user's first streaming transmission to the world. It's that simple and effective.
Eyepartner is one of the leading companies producing independent broadcast solutions and IPTV distribution software. Their company has opened the world of live streaming video to people of all skill levels through their introduction of both the TikiLIVE software and The HDWave screen casting application.
For more information on The HDWave and TikiLIVE, or online video broadcasting please contact EyePartner via their website: http://www.eyepartner.com/ or call at 305-289-4557.

If you want to receive the latest news in Video Broadcasting Industry please consider subscribing to eyepartner.com by Email or RSS Feed