Towns, cities and governments can provide tailored information without commercial interruption
Towns, cities, and other governmental agencies are now using online IPTV channels to keep their citizens informed about preparedness and management during natural disasters or other emergencies . This allows local citizens to access 24/7 information specific to their area without interruption.
When Hurricane Isaac hit the coast of Louisiana and Mississippi last month, St. Tammany Parish provided updates to their visitors using TikiLIVE, Eyepartner's flagship HD broadcasting service which provides its users with a comprehensive set of tools for producing and managing live HD streaming content. Before and during the hurricane, the St. Tammany TikiLIVE page provided updates from such sites as the National Hurricane Center on three different screens as well as a scrolling text update at the bottom. At other times, cities and towns, such as the St. Tammany Parish, can broadcast community events, council meetings, their local television channel, orprovide VOD content.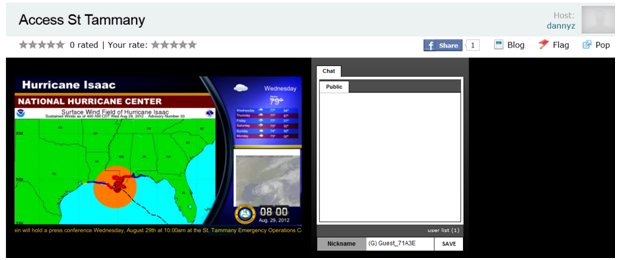 Towns, cities, and government agencies can inexpensively broadcast the highest quality LIVE video or offer VOD in HD through their own branded channel. The user only needs a video camera, and no proprietary or expensive equipment is needed. TikiLIVE offers many broadcasting options, such as social media sites (including Twitter and Facebook), set top boxes (including Roku), WordPress, and mobile devices.
"Providing updates quickly and efficiently during a time of emergency is critical," said Tim Green, Chief Technology Officer of Eyepartner. "Residents can now easily access a wide variety of information at low cost and with little effort."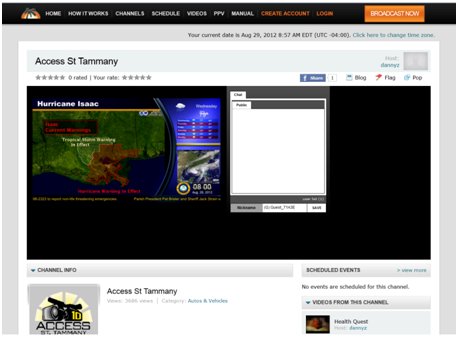 Using the TikiLIVE platforms, organizations can get feedback, such as the number of views. Also, TikiLIVE allows users to converse and share ideas in a chat box. TikiLIVE offers users a variety of options for broadcasters to customize their own channel, as well as a Channel Manager and Electronic Program Guide.
Some of the other benefits of and features available on TikiLIVE include the ability to:
• Easily brand connect, manage and monetize HD content
• Immediately track viewer habits and click-thru statistics from every channel
• Produce and promote events, sponsors or products using pre, mid, and post-roll overlays
• Allow for uploading, storing and managing networks of digital video inventory
• Upload, Transcode and deliver HD or SD video on demand
• Create themed channels, ingest commercials and publish to your network
To visit St. Tammany's TikiLIVE channel, please visit: http://www.tikilive.com/show/access-st-tammany
About Eyepartner: Eyepartner is a software development and hosting company that deploys and hosts rich media enterprise broadcasting software while providing first in class hosting to its clients. Eyepartner solutions focus on delivering high quality video, including both live streaming video and video on-demand (VOD). TikiLIVE is Eyepartner's flagship HD broadcasting service which provides its users with a comprehensive set of tools for producing and managing live HD streaming content. More information about Eyepartner and TikiLIVE is available at www.eyepartner.com and www.tikilive.com. To speak with someone directly, please call 305-289-4557.

If you want to receive the latest news in Video Broadcasting Industry please consider subscribing to eyepartner.com by Email or RSS Feed