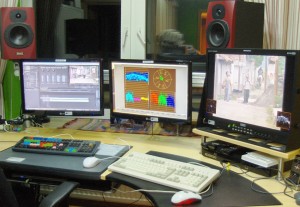 Monster Encoder via EyePartner's Broadcast Streaming Application, TikiLIVE
Once again EyePartner comes to the fore with a cutting edge encoding solution that allows users to customize videos in any resolution, aspect ratio, or bit rate. Powered by its high definition broadcast service, TikiLIVE, Monster Encoder is a pro-solution desktop application that has been created as one of the fastest double-pass encoders on the market today.
TikiLIVE
As one of broadcast developer EyePartner's many innovations, TikiLIVE is the company's flagship high definition broadcasting service. With its uncomplicated video publishing tools, the program functions as a high-tech launch platform for the Monster Encoder application.
Monster Encoder's Seamless File Conversion
Using TikiLIVE's exceptional streaming software, Monster Encoder is able to easily convert common video files for use in personalized channels and channel manager playlists. Files such as AVI, MOV, WMV, and the like are converted into MP4 or Flash (FLV) format via a turnkey application designed to integrate seamlessly via TikiLIVE's unique multi-threading technique.
Double Pass Encoding: Technology at its Finest
Optimum Analysis
Double pass encoding is a technique used for encoding original material into a secondary format using two passes or overviews in order to create the best possible quality for your video. Monster Encoder assures that your video material is analyzed properly from beginning to end before the actual encoding process starts.
Logical Configuration
The double pass process is accomplished by first scanning your video file then copying this information from the original video to a saved log file. Monster Encoder then uses the log file to discover and configure the most logical manner to fit the recorded material within the bitrate limits set for the encoding process.
Brilliance and Precision
Using higher bitrate for more complex segments of media files, double pass encoding is able to duplicate material with the greatest attention to detail. This process creates a final product that boasts a brilliance and precision unrivaled by any other product on the market.
High Standards
With TikiLIVE's exceptional delivery, Monster Encoder's use of double pass encoding ensures the highest standard for your completed video. In addition to vivid imagery, you can also expect impeccable audio from this state-of-the-art encoding system designed with the future in mind.
Streaming Your Videos
Streaming  videos for delivery over the Internet depends on an exceptional encoding process along with technology that understands the amount of bandwidth necessary for proper viewing. Encoding a video so that it streams at the proper speed requires a high degree of compression to both the visual and audio tracks.
Keeping It Clean and Clear
Keeping your video and audio tracks clean and clear requires sensitivity that is accomplished through Monster Encoder's advanced protocols. Let your business and personal presentations pop out with technology designed to get your creativity noticed!
Pristine Recording and Playback
Using the latest in video encoder software, Monster Encoder prepares your video for output by ensuring that proper formats and specifications are followed for pristine recording and playback. With the application's advanced technology, you can be assured that the final outcome of the encoding process yields results that will make you proud of your broadcast material.
Other Attributes
User Friendly and Cost Effective
Monster Encoder is designed as a complete application that does not require any extra equipment. This makes the program extremely user-friendly, as well as cost effective.
Easy to Operate
Whether you are a professional moviemaker or broadcaster, or you simply wish to create personalized video content, Monster Encoder is exceptionally simple to use. Easy-to-follow instructions allow for a quick and seamless download, and once this is complete, you're ready to start uploading your content!
Streamlined Desktop Application
Because the application works with all content delivery solutions, Monster Encoder allows you to publish your videos from cameras, mobile phones, webcams, and MP3 files. Ripping DVDs and encoding to the "flash for web" or "flash high quality" options using Monster Encoder is a breeze using the application's streamlined desktop application.
Easy to Configure, Easy to Adapt
Monster Encoder can also be custom configured for your needs. With its easy-to-use web interface, the program can adapt to varying screen sizes and resolutions, as well as high or low quality HDV file formats, and aspect ratios.
No Upload Limits
With Monster Encoder, hosting media on your server has never been easier. With no limit on file size for transcoding, and no limit on uploads, you can broadcast as much material as your creativity allows!
Personalize your Videos
Another one of the beauties of the application is its digital rights management system (DRM), where Monster Encoder makes it easy for you to transfix your own logo or watermark directly onto a video during the encoding process. Personalizing and branding your videos is a snap with this innovative protocol.
Inspire and Captivate Your Audience
When you need to inspire your audience, there is nothing like a strong visual to illustrate your point. A powerful encoding system allows you to create an eye-catching movie that will create an impact, capturing the attention of your viewers.
Convert and CustomizeAs one of the fastest high definition video encoders in the marketplace today, Monster Encoder can quickly convert mainstream movie files into compatible web formats and customize your player to fit your presentation. Monster Encoder will inspire you to create innovative online movies to supplement your advertising, enhance your brand, or entertain your viewers.
Easy Integration
With just a few clicks, Monster Encoder is designed to support all mainstream encoding formats and media players. With its easy upload interface, the application integrates with other EyePartner solutions, providing you with a complete broadcast system that is a pleasure to use.
Contact Us Today!
Any questions? Please feel free to contact us and let us help you discover all the reasons for using Monster Encoder along with the rest of TikiLIVE's broadcast applications. For users who want to stay ahead of the curve, EyePartner has created all the software you need!
Contact us today for more information on The HD Wave and TikiLIVE: www.eyepartner.com Or call us at: 305-289-4557
EyePartner is a software development and hosting company deploying and hosting rich media enterprise broadcasting software.

If you want to receive the latest news in Video Broadcasting Industry please consider subscribing to eyepartner.com by Email or RSS Feed

If you want to receive the latest news in Video Broadcasting Industry please consider subscribing to eyepartner.com by Email or RSS Feed