How to Stream Live Sports on ROKU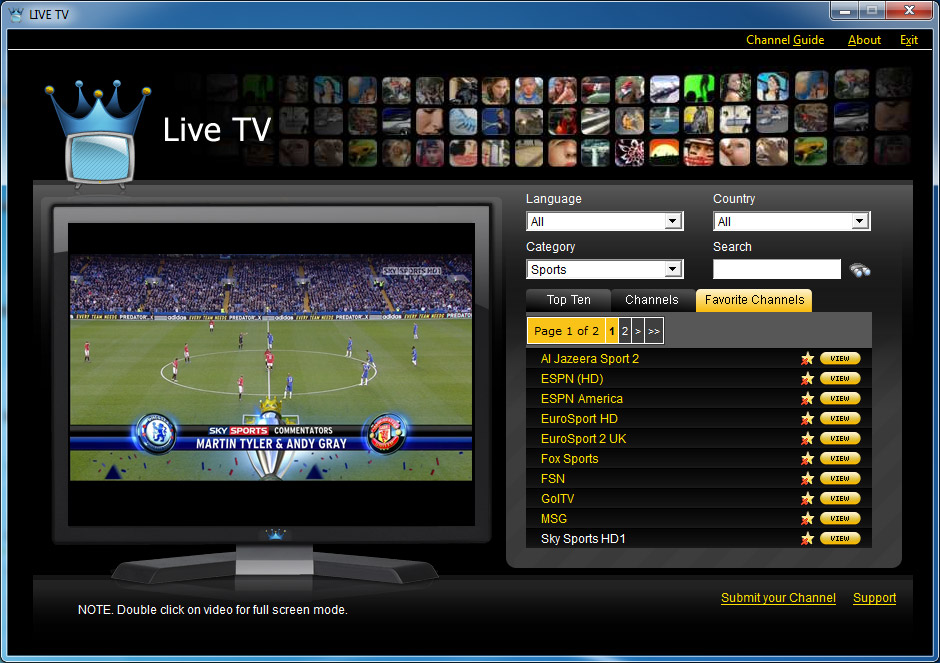 The television, much like the Internet and its accompanying technologies, arrived on the scene from a collection of inventors and inventive ideas whose time had come. A tipping point or the arrival of a techno-critical mass is what seems to drive these large innovation spurts that develop using evolving standards. The television, for good or ill, has remained the leisure center of the household and holds a place in our modern psyches like Mom and apple pie. It's where we go to relax, receive and enjoy.
In the squall of technology centered on the Internet and its inventions, it seems a kind of poetic justice that techno-innovators are coming to discover that most importantly, the end-game must be the thing kept sight of, and that brings it all back to the humble television. So for all the modern technical hoopla, whatever is happening on the Internet, we want it in our dens and living rooms where it ought to be. Enter the set-top box, which turns TV watchers into PC users by default, and vice versa.
Roku Brings it Home
Roku is the original streaming video player that connects to your home Internet Wi-Fi signal and enables over 300 channels to be streamed instantly to your television set. The Roku "box" connects to your TV with AV cables (or HDMI cable), and then plugs into a standard wall outlet. Most channels are free, with certain special services like Hulu and Netflix requiring a monthly charge.
The beauty of Roku is that when you buy it, you own it, so there are no monthly bills as with cable and satellite. So it takes very little thought to see that a set top box is certainly giving cable and satellite a run for their money, and it does so by bringing together television and the Internet. So Roku has a cost advantage, and certainly and ease of use advantage relative to a DVD player and buying or renting movies from a store. But what about if you want to stream live broadcasts to your television with Roku, especially live sports broadcasts?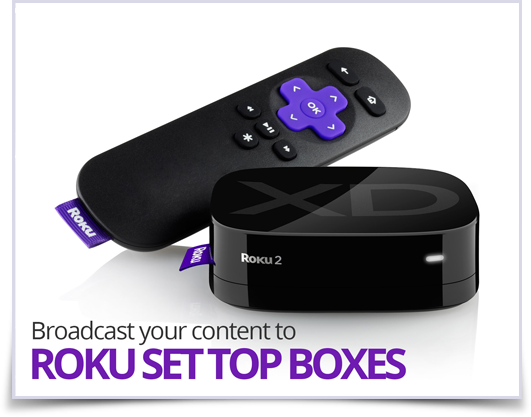 Eyepartner, TikiLIVE and Roku
Developers of advancing technologies and the Internet know they need to get it right by complimenting our lifestyles while continuing to evolve. Streaming live sports in the den or living room is pretty iconic. The way to go with this is to begin by becoming a broadcaster, and Eyepartner is what you're looking for. We are a hosting company built on innovation and we offer quality streaming media solutions designed especially for everyone. That is, the non-technical broadcasters, those who want to create and produce, as well as the entrepreneur with an eye to the future. Eyepartner solutions are designed for ease of use, enabling management of live HD (or SD) streaming, as well as recorded video on demand (VOD). Streaming media and VOD is designed to broadcast to set-top boxes like Roku, mobile devices as well as web sites and inclusive of CMS platforms such as WordPress.
TikiLIVE was designed to broaden the social networking platform by enabling customized broadcasts for the individual user that could combine live streaming and video on demand. With TikiLIVE, streamed HD content can be broadcast and viewed from custom branded channels directly from a desk or laptop.
TikiLIVE is an all-in-one solution designed to help eliminate hosting and software complications. Eyepartner has sought to combine the latest media hardware and administrative interface with a refinement in streaming technology. TikiLIVE is served through our broadcaster and is kept running with our Content Management System (CMS), and our seasoned back office experts are at the ready 24/7.
The broadcasting support from Eyepartner and TikiLIVE enables you to solely concentrate on content refinement, programming and audience building. You are also free to monetize your channels with pay per view and pay per broadcast, which is especially lucrative with sports.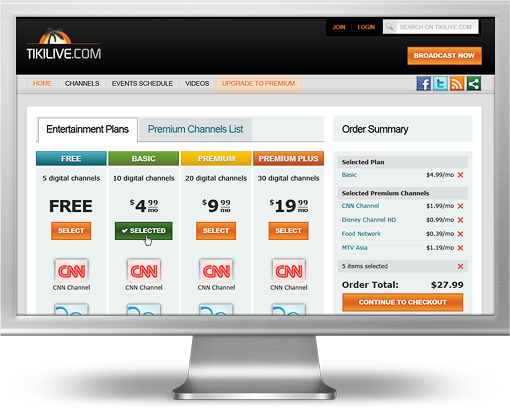 Roku and TikiLIVE Together at Last
In 2011, Eyepartner released TikiLive iPTV for Roku, which brought the two technologies together. Previous to this, delivery of HD Live Streaming to set-top boxes was problematic and expensive. Eyepartner came up with a middleware that eliminated the previous technical problems and remained cost effective.
TikiLIVE iPTV for Roku links HD live streaming, video on demand and broadcaster channels to Roku, and it is designed to enable simultaneous broadcasting to your streaming sites as well. This design improves your ability to reach your audience exponentially. There are currently over a million Roku box users and counting, so a streaming broadcaster has the potential to reach and incredible number of people.
The TikiLIVE broadcaster now has the capability to produce content, deliver scheduling, and organize pay per view directly to their audience's televisions. Live sports and television were made for each other.
Simple Set-up
The set-up for TikiLIVE and Roku is very manageable and simple. Eyepartner does the heavy lifting, and all media is streamed from our central server farms. We provide an application with a user-friendly dashboard accessible from any browser. All the essential broadcasting tools are built-in including uploading capabilities for video on demand and live streaming as well as capabilities to arrange playlists and publish channel lineups.
You are free to customize your programs and this includes combining VOD and live streaming programming. Live stream content is instantly deployed to a channel on the ROKU set top box for immediate viewing. That's it. We also offer easy to follow tutorials that guide you step-by-step through the process to make sure your experience is as simple and effective as possible.
Creating compatibility between Roku and TikiLIVE is yet another convincing reason to join the movement of online independent broadcasters. Delivering live sports events to an audience in their own living rooms using the internet is a new perspective on business and entertainment.
Streaming live sports on a customized channel is an innovative way to deliver media and with the Roku, it's a new twist on an old favorite. To learn more about live streaming with Roku set top boxes, contact us today. We can be reached through our online form or by phone at (305) 289-4557.

If you want to receive the latest news in Video Broadcasting Industry please consider subscribing to eyepartner.com by Email or RSS Feed