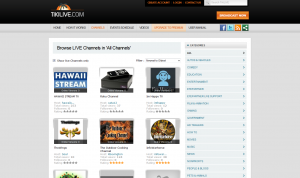 You're currently on the market for the perfect host to stream your video. You're not looking for just any host to stream any video; you're looking to stream video live. You also would love if your video was of the highest quality, easily accessible and you'd like the service you choose to be affordable. What you would like is Discount Hosting through EyePartner. EyePartner specializes in delivering iPTV to your computer, mobile devices and set-top box. Specialties of EyePartner include, but are not limited to, custom video solutions, Live and On Demand Video Streaming and content ingestion and encoding.
With EyePartner you have access to rich media solutions such as video hosting, and Live streaming in Standard Definition, High Definition and Video On Demand (VOD). EyePartners flagship product, TikiLive serves as a social networking platform that combines live video and VOD and host for broadcasting as well and is also a Content Management System. TikiLive, as a video streaming host, provides users with a comprehensive set of tools for producing, managing, and broadcasting Live HD Streaming content through their very own branded channels.  This service also provides the ability to interact in real-time chat with others while viewing live streams this is just one impressive aspect of EyePartner's hosting ability.
EyePartners hosting also encompasses, but is not limited to:
Server Management – where the staff at EyePartner's staff is available for sub-contract when it comes to configuring and managing your server database.
Monster Encoder Service –the most powerful encoder available on the NET, this encoder offers users the ability to upload content in a multitude of formats and produces high quality content such as formats FLV or H.264. Monster Encoder has no proprietary hardware so it's light speed ahead on the competition.
Data Center Deployment – the EyePartner team handles initial configuration of a clients server, the end result is a maximized server interface that is unique and unable to be reproduced.
FMS EHOPII Broadcasting Load Balancing – this load balancing algorithm ensures that all of the clients servers are running at optimum efficiency. The load balancing evenly spreads out the processes across multiple servers while saving time and maximizing efficiency.
24/7 Escalated Server Support – this service provides the customer with an experienced support team available to address hosting streaming video needs at all times. This is to ensure that there is someone in place at all times so that your video as constantly accessible with little room for glitch or downtime.
These are just a few of the many extended features offered by EyePartner for your hosting needs. If you're interested in experimenting with video streaming, you are more than encouraged to try your hand at TikiLive.   Broadcast Live or pre-record your VOD content. Create an unlimited number of channels on your personal network and let TikiLive host them for you. Try streaming live feeds and VOD to mobile devices simply because you can. The options are all there for your hosting needs it's left up to you to utilize them.
If you would like to learn more about the possibilities of hosting streaming video with EyePartner call 305-289-4557. Experts are standing by to assist you today!

If you want to receive the latest news in Video Broadcasting Industry please consider subscribing to eyepartner.com by Email or RSS Feed