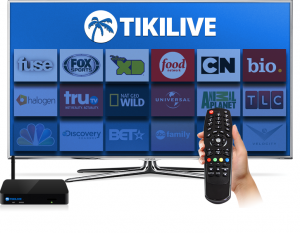 At Eyepartner one of the fastest growing areas of our company are our TikiLIVE products. TikiLIVE is an extremely easy to use streaming platform that allows users to stream high quality video and audio content online with little to no experience with complicated streaming technologies. In fact, TikiLIVE allows anyone with nothing more than a smartphone to get their content out to the world.
Ways Broadcasters are Using Eyepartner's TikiLIVE Products
Create Your Very Own IPTV Network
As the cost of high speed Internet continues to plummet more and more people are looking to stream video content online. This has opened up opportunities for IPTV networks like Hulu, Amazon and Netflix as well as smaller independent content creators looking to get their content seen by as many people as possible. Thankfully with TikiLIVE it's extremely easy to create your very own IPTV network complete with your own branding and Electronic Programming Guide (EPG) that allows your users to easily browse through your content.
Reach Mobile Users Thanks to HTML5 Support
Google recently announced that more users are using their mobile phones to search for content and websites than from physical computers. This means that it's incredibly important for businesses and content creators to ensure their information is always accessible from mobile phones and tablets. With TikiLIVE you'll have full HTML5 support, which will allow anyone with a smartphone or tablet to easily access your content. In fact, with both an iOS and Android app you can even record video from your smartphone or tablet and have it instantly show up on your TikiLIVE channel.
Monetize Pay Per View Content
For broadcasters looking to generate income online, TikiLIVE offers a wide array of options. One of the most popular methods of monetization is creating pay per view content. With TikiLIVE you can record content once and then charge people to view it again and again, long after the original event is complete. This allows individuals to generate income around the clock, all from a past event.
Charge for Live Streamed Events
Aside from charging for pay per view content, TikiLIVE also allows broadcasters to charge for live events as well. TikiLIVE offers its own ticketing system that allows you to control exactly who is viewing your content at anytime. Think about being able to not only charge your fans for physically attending your live event, but also charging fans that would prefer to access your content from the comfort of their living rooms.
Compete With the Large Players in the IPTV Industry
By partnering with TikiLIVE broadcasters are able to deliver content to their user base with the same high level video quality that large companies like Netflix, Amazon and Huly provide to their customers. You'll have a fully featured content delivery network delivering your content that will never let you down when you least expect it.
Reach out to Eyepartner for More Information About TikiLIVE
If you're interested in more information about Eyepartner's TikiLIVE products don't hesitate to contact our streaming experts by phone at 305-743-6722 or through our online contact form.

If you want to receive the latest news in Video Broadcasting Industry please consider subscribing to eyepartner.com by Email or RSS Feed