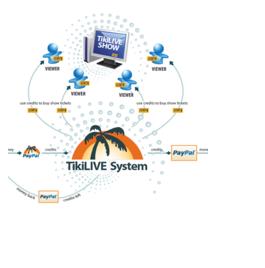 With streaming technology now finding it's place in mainstream, it is no surprise that the business world has flocked to this new wave. Television is no longer for news and entertainment only. With streaming TV, businesses now have the platform to share ideas, make deals, and host conferences with viewers all over the world. This type of sharing and communicating is made possible with Eyepartner's TikiLive.
TikiLive is a groundbreaking HD broadcasting service cuts the cost of producing and sharing online video content. It that provides your business with all thats needed to broadcast, manage and produce live HD streaming content. Your broadcasted content can be streamed from your desktop computer to your own TikiLive channel.
To get started with TikiLive you need a web camera with true 720p HD, a TikiLive account and reliable internet connection. After you are set-up, you are ready to stream an unlimited amount of live content to be distributed on channels within your TikiLive network.
Your broadcasts are all auto-recorded and can be accessed as video on demand (VOD) content. Organize your content in your personal gallery. This makes it easier for your live broadcast to be found at a later date. For viewers that are iPhone users, let them know that they can now stream live feeds and VOD directly to their mobile devices.
TikiLive offers a chat feature that is great when conducting business. This chat feature allows you and your viewers to interact with live during broadcast. If there are any questions or concerns, they can be addressed within the chat. There is an option to choose user text colors within the chat so that you may know who is responding. This can help to keep the chat conversation coherent.
With TikiLive you have complete control and management of your own brand and can even generate revenue setting pay per view (PPV) and VOD prices for your content. Yes, it's true! TikiLive grants the opportunity to monetize your content. Let's say you are hosting a conference that may be beneficial to many people outside of your business. You can set your streaming content as PPV. This feature will allow your business to gain additional income from ticket sales on live shows and VOD. Set the VOD or live event price, prompt outside viewers to buy tickets using credits purchased through pay pal then convert these credits into cash. The site administrator will get a published cut of the profits. After you've sold tickets to an event, TikiLive gives you an advanced analytical report on your ticket sales and revenue.
If you were searching for an innovative way to conduct business around the world then you've certainly found it. To sign up for your TikiLive account contact sales@tikilive.com today!

If you want to receive the latest news in Video Broadcasting Industry please consider subscribing to eyepartner.com by Email or RSS Feed

If you want to receive the latest news in Video Broadcasting Industry please consider subscribing to eyepartner.com by Email or RSS Feed