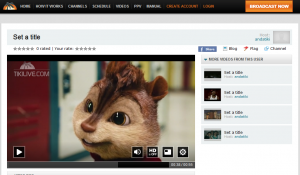 A new streaming video software has debuted for broadcasters, producers and entrepreneurs. JamOnCam, built upon the TikiLive platform, allows broadcasters to stream live HD video to users all over the world. JamOnCam is a turnkey, brand-able pay-per-view platform that allows broadcasters and producers to stream live events in HD and charge viewers to access the streaming content.
What is JamOnCam?
Version 5 of JamOnCam has just been released. JamOnCam is a complete solution for offering live streaming video, as well as video on demand, to your viewers. JamOnCam allows the broadcaster or producer to charge a fee for each piece of content. Make your mark with live video streaming software, JamOnCam. JamOnCam supports credit card payments, as well as pay-by-phone payments.
One of the best features of JamOnCam is that each live event is automatically recorded so that you may offer the event as a video on demand production. Stream sporting events, music concerts, theatrical productions, meetings – anything you would like to stream – with JamOnCam.
JamOnCam Features
JamOnCam includes many standard features for the broadcaster or administrator. Some of the features include:
- Live Chat
Chat with your viewers on each channel. The Live Chat console is one of the easy to use administrative tools. Chat with all viewers at once or select a viewer and initiate a private chat.
- Broadcast Announcements
Post announcements to your viewers over the live streaming event. Ensure that messages are received through the administrative tool.
- Gifts, Donations and Tips
Viewers have the ability to send the broadcaster gifts, donations and tips during the broadcast on JamOnCam.
- Friends
Connect with other viewers on the Friends social networking page. To connect with another viewer, just click the "Add to Friends" button next to their name in the list. Once they accept your invitation, they are added to your Friends list in JamOnCam.
- Photos
Broadcasters may upload photos and images and share them with viewers.
- Payment Right from the JamOnCam Site
Viewers are able to purchase live or video on demand streaming events right in your JamOnCam site. JamOnCam accepts all major credit cards and also offers viewers an option to pay by phone.
- Appointments
JamOnCam allows viewers to send broadcasters an appointment request. Broadcasters have the option of accepting the request, rescheduling or declining the request.
- Embed Video
JamOnCam streaming video and audio may be embedded into other web pages. Simple insert the required code into the web page to display your streaming media.
How difficult is JamOnCam to Use?
JamOnCam is packed with features that make the software easy to use and manage. JamOnCam requires no prior technical knowledge at all. You simply set up an account and determine the subscription type your streaming service. Broadcasters may pay per viewing event or per month. Once you create your first channel, all of the administrative tools are available for your use. The tools are simple to use and easy to understand. Yet, should you have any questions, EyePartner offers 24/7 technical support and we will assist you in any way possible to get your live feed up and running.
JamOnCam's administrative tools are straightforward. The reporting tool displays several viewer aggregate statistics in graphic format. Broadcasters may track viewer behavior through the program's analytics. Real time statistics are available to the administrator or broadcaster with one click of the mouse.
Very little viewer maintenance is required with JamOnCam. Your viewers are able to make payments right from within your JamOnCam site. You do not need to physically "run" credit cards or intervene in the acceptance of payment.
The administrative interface offers several options for finding exactly what you are looking for. Use the Search feature or filter videos by name or content type. Set your own price for your pay-per-view events using the easy to set up Event administration feature. Create different levels of access from the administrative dashboard. Even set commission rates for others in the dashboard.
How Does JamOnCam Stream Live Video?
JamOnCam uses the HD Wave application to stream live video right from the capture device. In other words, you can stream your live video content straight from your camera as you shoot. Simply install HD Wave onto the laptop or desktop where you will use JamOnCam. Locate the camera in the list of capture devices in HD Wave, and shoot your live video feed! It is that simple. No special hardware or complicated products to download and install. HD Wave is simple and straightforward, created for the non-technical broadcaster. More importantly, you maintain ownership rights over all of the content that you broadcast on the JamOnCam platform.
You may also stream other video content from other sources. For example, you might want to embed a YouTube video into your production. You can do that with JamOnCam! You may also stream video encoded with other proprietary programs, such as
* Adobe Flash Media
* Telestream Wirecast
* VidBlaster
* NewTek TriCaster
JamOnCam utilizes the world famous TikiLive platform which enables broadcasters and producers to stream the highest quality HD video available on the Web. The platform allows broadcasters and administrators to create custom page templates for displaying their content. Create your own branded network of channels on the TikiLive / JamOnCam platform.
JamOnCam Viewer Experience
Viewers experience a rich video presentation with many controls at their disposal via the TikiLive player and JamOnCam features. Viewers may browse through a list of all broadcasters on the site. Viewers may also search and sort through the list of broadcasters, with the ability to see who is online at any given time. Viewers have access to the Live Chat feature and may quickly switch between the broadcast and the chat window. Viewers may also set up alerts that will send them an email when a broadcaster is online. JamOnCam provides a fast sign-up process and quick payment options so the viewer is able to access the content they want to see as soon as possible. If the viewer loses their password, an automated feature will assist them with a Password Recovery / Reset function.
JamOnCam software runs on Windows 7, Vista, XP, 2000 and MACs. Contact EyePartner for more details about JamOnCam – the first turnkey pay-per-view live streaming video service that was created for non-technical users.

If you want to receive the latest news in Video Broadcasting Industry please consider subscribing to eyepartner.com by Email or RSS Feed