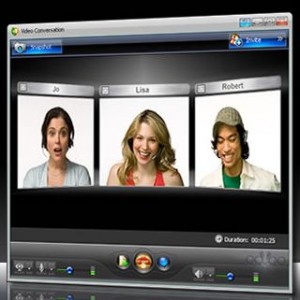 In today's digital age it is becoming easier for businesses to reach out and connect directly with their consumers and business partners. The companies who are succeeding in today's market are those who are seen as industry leaders and those companies who have established successful lines of communication with their customer base. Virtual events are becoming an ever more popular medium for offering product workshops, tutorials, training seminars and conferences. Don't sit back and wait for your consumers to come to you, investing in live conferences and events will prove cost and time effective for your business and propel your brand to the forefront of your industry.
Why Invest in Video Conferencing Solutions
Thanks to advances in video, audio and interactive technology, video conferences provide your business with a unique opportunity to connect directly with interested consumers, conduct invaluable market research, and empower your brand voice while showcasing product sets in a highly customizable setting. According to recent studies, video conferences traditionally produce a high Return on Investment (ROI) with revenues generated from video conferences totaling $18.6 billion in the past year and this number is project to grow over 56% by 2015. When compared to off-line events researchers found that online conferences and events drew at least 71% more participants, and have helped increase worldwide reach by over 62%. Due to ease of attendance, an increased geographical reach and the ability to interact with presenters and organizers in real time, 63% of consumers and business professionals have indicated that they were much more likely to attend a virtual event as opposed to an in-person event. Many organizations are also drastically cutting travel budgets due to the poor economy so attending a virtual event is an attractive option for attendees and their superiors alike.
Hosting a virtual event is dramatically cheaper and more time efficient than organizing an offline event. Thanks to highly trained IT support teams, organizing virtual events has become a streamlined and efficient process for even the least tech savvy organizers. When selecting a live conferencing software it is critical that you choose a video conference service provider that cab incorporate the latest advances in a package that suits your technological needs, is reliable, secure and who can provide excellent customer support. There's no need to look further than Eyepartner and their TikiLIVE product line.
But why pay? In the age of free services like UStream, why should you even spend a dime on streaming video? The answer is three-fold:
Customizability
Support
Community

Customizability in a Live Video Streaming Software is Key

Many business owners and consumers are quite happy with dealing with the bare minimum when it comes to their purchases. Unfortunately, settling for less means fewer options. Fewer options means you're essentially at the mercy of whatever the product does, with little hope for future improvement or expansion. TikiLIVE takes care of these concerns by having a beautiful, simple piece of software that you can mold into everything from a colorful expression of your bubbly personality, or a stripped-down, modern look that appeals to both the eye and the mind. Your only limit is your imagination, as well as your personal business needs. Whether it's a platform to communicate with fans, or a live help desk like our own, we can help you set up exactly what you need.

Technical Support on your Live Video Streaming Software

Since we're already on the subject of support, look no further than our team. From 3 am to 7 pm Eastern standard time, we're available to you for whatever questions, comments or concerns you may have. If you'd rather give us a call or e-mail, that's just as easy and we can help you with your needs just as quickly.

Dedicated Community for all your Live Streaming Questions and Needs

Being online has one essential purpose, building a community. There is no easier way to do this than by communicating directly with your clients or your fans. When you sign up for an account, we can host any number of channels and assure HD video quality or give you the simplest setup if you're just starting out. For any price range, we can fill your needs. Whether it's starting a group to share the latest happenings in your neighborhood or live streaming your bands first show to be shared with the masses, we want to help you build your following and foster the sense of community that has made us such an integral part in so many online ventures.

With the ever-increasing presence of mobile platforms and customer's consumption of media, nobody has realized that more than Eyepartner. We have optimized streaming video to suit whatever platform users prefer. If you're appealing to those on a desktop computer, the more portable netbook or the even those watching on the go, you can rest assured that your content is ready to go wherever your audience can carry you. With TikiLIVE, the media and the message no longer have to be compartmentalized. Using our software, with the infinitely customizable options available at your disposal, anything in the realm of live streaming is possible. Call or chat with us to schedule a consultation today. The sooner you come to us, the sooner we can bring your vision to life, live and direct. For more info contact sales@eyepartner.com.

If you want to receive the latest news in Video Broadcasting Industry please consider subscribing to eyepartner.com by Email or RSS Feed