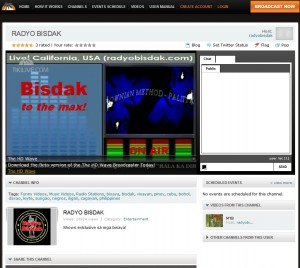 If you ever considered taking matters into your own hands what better time to do just that than now? Maybe you've dreamed of being a megastar. You imagine what it would be like to perform for hundreds, thousands, no, millions of people with them all having a great appreciation for your work. They follow everything you do. They want to know where they can find you next. They look forward to watching every performance in your repertoire. They simply can't get enough—they're your fans, for goodness sake. How about thinking even bigger? What if the performances these fans grew to love were bred of your creations? Yes, you read write. What if you weren't only the star, you were also the producer? Can't you just imagine the power, the creative control? Well, imagine no more. Let's make this a reality!
How can this be your life, you wonder? It's easy through TikiLive! TikiLive is EyePartner's flagship HD broadcasting service that provides users, like yourself, with a comprehensive set of tools for producing, managing, and broadcasting Live HD Streaming Media via your own branded channel. With use of a high quality IP or web cam you can begin to shoot and produce your very own media content today.
TikiLive not only allows for the live broadcast of your streaming videos but your channel will also house Video On Demand content. If your fans are unable to get in front of a computer at the time of your live streams they can always view your stream via mobile device such as iPhone. If they don't have access to a multi-media mobile device so they miss the live stream, no worries, your videos are auto-recorded and imported into your video catalogue where they can be accessed through Video On Demand at anytime.
Keep in mind that if your creativity spans far past any one genre you are encouraged to create as many channels as it takes to capture all of your whims. There are an unlimited number of channels available within your network so go ahead and have at it! Here's something you'd probably like to know: through your TikiLive channel you can set up Pay Per View and VOD prices! Let's say your channel is in high demand (as you know it will be) you can monetize your HD content and even integrate advertisement ad commercials into your network. TikiLive's detailed tracking allows you to know learn viewing habits, click-thru statistics and location of viewers which could be helpful in creating direct marketing content for niche marketing. The money generating possibilities with EyePartner's TikiLive are endless.
Your interest is probably peaked at this point and you're looking to get started with TikiLive. Here's what you do – CREATE! Start there and let TikiLive take care of the rest. To learn more about TIkiLive and the way the platform works feel free to visit http://www.tikilive.com/index/see/how-it-works#how-it-works. If you have any questions or would like more information about TIkiLive of EyePartner contact sales@eyepartner.com or by phone 1-305-289-4557. Experts are standing by eager to assist you today

If you want to receive the latest news in Video Broadcasting Industry please consider subscribing to eyepartner.com by Email or RSS Feed