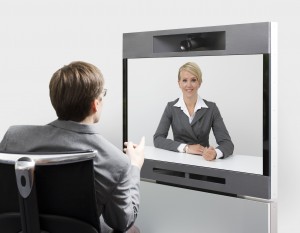 As broadband Internet connections have become almost the standard for accessing online content, the spread of online video sharing and broadcasting services has been nothing short of remarkable. These services enable users to create and distribute their own pre-recorded content and engage in live broadcasting, live videoconference calls, and on-demand content distribution that allows them to reach a far more broad and diverse audience. Among all of the tools that are helping to revolutionize the world of online content management and distribution, one of the most innovative solutions is the TikiLIVE product offered by EyePartner. The company has long been at the forefront of IPTV distribution services, and that expertise is now helping businesses take their message to the viral video world right alongside consumers who have been using such services for the past several years.
A Great Solution for Live Videoconference Calls
There's always been a certain disconnect between the way users wish to use a videoconferencing solution and the way that videoconferencing software actually works. Since its inception, this software has basically facilitated nothing but live calls between consenting individuals at a predetermined time. That's fine, of course, but it's not really the only way that businesses tend to communicate. That's especially true as the business community has increasingly preferred to telecommute, travel the world, and work from home. With boardrooms now increasingly digital instead of traditional, videoconferencing solutions must advance to meet modern business demands.
EyePartner's TikiLIVE video streaming and content management service, actually offers a number of tools that are paired with collaborative streaming video capabilities. For as long as TikiLIVE has been around, it has served to turn traditional Internet video into an interactive IPTV solution that actually enriches the experience of watching that video and provides a refreshing take on a relatively tired technology. However, the live streaming features are only the start of what Eyepartner's software can do for you and your audience.
EyePartner Makes Pre-Recorded Content as Engaging as Live Video-conferences
One of the quirks of a global business climate is that many of a company's employees will be unable to attend any given live videoconference due to scheduling and time zone conflicts. In an era before EyePartner took its TikiLIVE services to the enterprise market, this would present a pretty sizable disconnect in communication, and many businesses wouldn't have tolerated such a disparity in attendance and scheduling. Our range of solutions and custom capabilities helps to bring employees closer together by paring live video streaming with on-demand video.
The administrator of a company's live conference call can optionally choose to have the entire meeting recorded while it occurs, and this recording will come paired with any polls, whiteboards, or other functionality that can be utilized during the live meeting. This content can then be watched in its entirety by the user at a time that works better for them. This means that a company won't be forced to write meeting minutes, or write any emails to those employees who miss out on the conference call, in order to meet the demands of a global workforce. Instead, they can simply instruct them to view a company's pre-recorded conference call. We also make it easier to interact with a company's base of clients and customers though pre-made videos which can be watched at any time and charge for them if necessary.
Generate Revenue with On-Demand Content

As mentioned earlier, EyePartner has long been an innovation leader in the area of IPTV services. The company has encouraged independent broadcasters and content creators to distribute their content in traditional set-top box format, as well as online broadcast channels, virtually since its inception, and this video-for-profit ethos is translated quite well into the corporate setting for clients who make our software a part of their operation.
The on demand pricing can be pre-determined in the control panel software; dedicated users can be required to pay the fee just one time for unlimited video views, or they can be required to pay each time they wish to view one of the company's public conferences, meetings, or keynotes. It's a great way to stoke the interest of a company's loyal fan base and help earn a return on the investment made into EyePartner products on an ongoing basis.
Best of all, because EyePartner has been an essential part of growing the IPTV business overall, they've ensured that all content contained within our software are streamed to both consumers and employees in high definition. This is pretty notable, as many content services (like YouTube and Vimeo) are only HD on a case-by-case basis, with the vast majority of content coming in at quality levels that are well below even standard definition. This professional appearance will reassure consumers that the company is committed to both quality and communication, and it will help employees get a (literally) clearer picture of what is going on at the company when they connect for a videoconference or tune in for a pre-recorded company meeting.
Great Technologies and a Great Investment for All Users
EyePartner software products and servers have never been known to cut edges when it comes to providing customers with the latest technology to get the job done. That's why our offerings are backed by the power of a Flash Media Server and hooks for Adobe Creative Suite software, as well as Apache 2.x and the PHP 5.x programming language. These technologies are essential, especially in today's marketplace where an outdated version of either Apache or PHP could dramatically reduce the functionality of a server and the applications it supports.
With cutting-edge technologies and a commitment to high quality video and collaboration tools, TikiLIVE, is a great way to spread a business' message and connect employees while engaging consumers. Our on-demand and pay-per-view video services are as innovative as they come, and they'll help a company earn both a great reputation and a great source of revenue with relatively minimal effort. It has always been the goal of EyePartner to foster greater, more affordable communication using great technology and high definition streams, and that is exactly the reputation that the TikiLIVE software offers. Call 1-305-289-4557 or email sales@eyepartner.com today to let EyePartner help you accomplish all your video streaming needs.

If you want to receive the latest news in Video Broadcasting Industry please consider subscribing to eyepartner.com by Email or RSS Feed