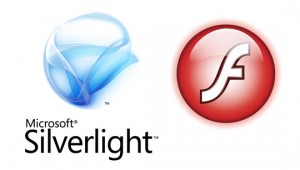 Cassette versus CD. VHS versus DVD. HDDVD versus Blu-Ray. New formats mean a new media war. The latest media war is between Flash and Silverlight. Silverlight is Microsoft's attempt to enter the Web video plug-in world and dethrone the reigning king, Flash. Adobe's Flash has been the web's moving image and video display titan for some time, basically the better part of a decade. Recently the likes of Apple (see the iPhone lack of Flash support) and Microsoft have taken aim at Adobe's thriving success.
With Silverlight, Microsoft is attempting to steal market share and swing the tide away from Adobe and to different forms. Microsoft carries the weight of its large network of information technology software including a dominating operating system market share against Adobe's darling, Flash. The battle between these forms figures largely into how users view streaming video over the web and how developers prepare the content. With that said, software at EyePartner.com such as Monster encoder and Tikilive come prepared to support the web standards even as they change. The goal is to reach the largest audience and that's a goal we achieve.
Coming onto the scene in the last few years, Silverlight sought to mimic and copy many of Flash's robust features. Last year Silverlight targeted Adobe's offline companion, AIR, in attempt to give Silverlight the offline functionality that Adobe Flash enjoys through AIR. The mission was a success for a functionality standpoint, but from market share.
To state it simply and briefly, both models use similar technologies in a cat-and-mouse like game. Silverlight and Flash both use hardware graphics acceleration, 3D effects, HD video support and business solution support, among too many other features to count or state here.
The products have few differences except for the one that has existed from the beginning, Adobe's dominance. Flash has been the standard and dethroning a living king requires a coup-d'etat,  which Silverlight's features not been able to achieve. Microsoft Silverlight remains rarely used on sites not connected with Microsoft and that does not figure to change unless Silverlight elevates its capabilities to offer services that woo developers away from the kingdom.
For now Silverlight's main advantages come because of its development by Microsoft. Silverlight works with the .Net framework used by many businesses. Additionally, some developers prefer the design options of Microsoft's Visual Studio over Adobe's Flex. For that, and other reasons, business software developers gravitate towards toward Silverlight. Did I mention that Microsoft owns Windows, which still, despite great advances from MacOSX and Linux, dominates the market. That means Silverlight gains an edge because it can be customized to work with Windows-based computers in ways Flash can't. For all of its flaws, people trust Windows and know it, whereas Adobe doesn't have an operating system and jaunts about town dealing in different development.
Competition is good for consumers, but more frustrating for content developers. The fight between Silverlight and Flash should lead to more features faster, better quality and greater innovation. Those are all great things. The software solutions at EyePartner.com understand innovation is inevitable and a benefit. Our software solutions can be adapted to Silverlight and Flash, giving our customers the ability to reach larger audiences. Nobody wants to limit themselves to only half the market when there's a whole market out there for the taking.

If you want to receive the latest news in Video Broadcasting Industry please consider subscribing to eyepartner.com by Email or RSS Feed

If you want to receive the latest news in Video Broadcasting Industry please consider subscribing to eyepartner.com by Email or RSS Feed