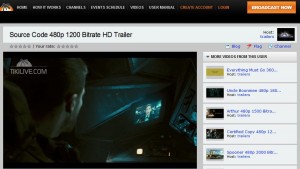 You want to stream video. Perhaps you've heard about the endless possibilities associated with video streaming and you think it's about time you took a stab at it. Maybe you're working for a corporation where the demands for efficient communication are high and steadily rising. You can't afford to be misinformed or misunderstood when business is as stake so you're looking for a medium that is affordable, easily accessible and most importantly, reliable. You are looking to connect with potential allies, employees, customers, and partners in a manner that is conducive to the growth and progression of your business. You are looking for EyePartner's TikiLive.
TikiLive is EyePartner's flagship HD broadcasting service which provides its users with a comprehensive set of tools for producing, broadcasting and managing live HD streaming content controlled through their own branded channel.  Gone are the days of missed meetings and faxed memos. Want the employees in the extended office across country to know exactly what you feel about the new proposal? Tell them. You'd like to implement a new standard of operation and you want this standard adhered to carefully and precisely? Leave no room for lost interpretation at the hands of a vague email. Articulate it exactly as you mean it through video streaming with TikiLive. Producing and sharing online video content through TikiLive dramatically cuts cost of video production which is vital when considering the importance of budgeting so it is a wise investment.
TikiLive auto-records all live streams so colleagues and employees may refer to all corporate video anytime as reference. TikiLive also offers a platform to interact and connect directly with your audience which is necessary for instances when employees or other viewers of your video may have questions that merit immediate or detailed response. If employees are absent or unable to view your video stream live, TikiLive offers Video On Demand features that can be accessed through multimedia mobile phones such as iPhone.
If you have a variety of corporate videos all addressing different facets of your corporation you are encouraged to store, organize and group your content in your company's personal video gallery. Feel free to create as many videos as you would like. You are allotted an unlimited number of channels within your network so the space available to your company is endless. All your company needs to get started and ready to connect is a high quality IP or web camera and a TikiLive account.
Just for your information you may like to know that your HD video streaming content can be monetized. You can set up your own Pay Per View and VOD prices to accompany your company's different channels. There are also numerous opportunities to integrate advertisement and ingest commercials into your videos. TikiLive has the capability to serve your need within and beyond the corporate realm.
Explore the possibilities of EyePartner's TikiLive! If you would like to learn more about how TikiLive works feel free to visit http://www.tikilive.com/index/see/how-it-works#how-it-works. For more information or if you have any questions please contact sales@eyepartner.com or call 1-305-289-4557 for more assistance. Experts are standing by to help you today!

If you want to receive the latest news in Video Broadcasting Industry please consider subscribing to eyepartner.com by Email or RSS Feed