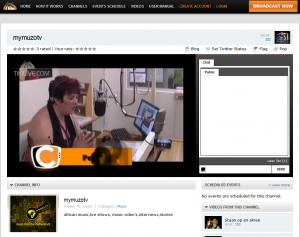 Audio streaming software allows users to stream audio, including live broadcasts, over the Internet. The HD Wave Broadcaster from EyePartner Inc. offers a highly innovative, patent pending streaming technology platform for the delivery of professional quality audio and other content across the Internet.
EyePartner includes The HD Wave broadcasting software with the HD TikiLIve Plug-and-Play Broadcaster, a hardware high definition streaming solution.
What is streaming audio?
Streaming audio involves the delivery of an audio file over the Internet in a way that facilitates playback during the download process. Instead of downloading the entire file and then opening and playing that file, audio streaming software sends and downloads chunks of the file at a time.
Initially, the streaming software will delay playing the file chunks in order to collect a "buffer" of data that will allow audio playback with little or no interruption. Once the player has enough data for a buffer, it will start playing the audio as it continues to download the remaining data from the file.
The buffer, in most cases, will allow the software to download enough of the file to continue playing the audio seamlessly before the last chunk of data finishes playing. If the Internet connection is slow, or the server is too busy, then the player may not be able to download the data fast enough. In such cases, users will see delays in which the player software will indicate that it is "buffering" or "rebuffering," i.e., that it needs to delay playing until it downloads enough data for a buffer.
Because streaming software is able to play audio while it downloads, it is possible to broadcast live audio with these applications. In this case, instead of sending chunks of a file from a storage device, the broadcaster sends data live as it is happens. In the same way, the player software again buffers the initial part of this stream and begins playing once it has enough data. At the same time that the user is broadcasting live data, they can also save the data at a file on storage media.
Audio streaming software
The term "audio streaming software" can refer to the broadcasting solution, but also to the software on the other end that plays the streamed audio. The quality of audio streaming software can vary considerably in terms of user-friendly interface, features and the capability of rendering high quality reproduction of audio over the Internet. Streaming solutions also differ markedly in cost and customer support services.
Some audio streaming software is only capable of broadcasting non-HD audio that does not provide the highest possible sound quality. Broadcasting software will be able to capture audio live and either save it to file or send it in real time over an Internet connection.
High definition audio delivery allows the end user to play back audio on advanced audio systems that use multiple speakers and enhancements like Dolby Digital DTS. For example, a home entertainment system generally consists of speakers arranged in a room to provide an enhanced "surround sound" environment.
Many of today's flat screen HD televisions and home entertainment centers allow users to connect to their computers via digital links like High Definition Multimedia Interface (HDMI) cables. In addition, many newer HDTVs are capable of connecting directly to the Internet without the need of an intervening computer or mobile device.
The HD Wave Broadcaster
EyePartner designed The HD Wave broadcasting software with efficient patent pending streaming technology that allows delivery of high definition audio and video content over the Internet.
With The HD Wave, users can stream content at the latest broadcasting standard of HD H.264 for live video. The software appears destined for international recognition in many industries including entertainment, medicine and engineering.
HD Wave is an affordable solution that provides the only streaming software on the market centered around video driver technology. The broadcaster can deliver desktop views in 720p and 1080i high definition quality without requiring any special hardware. With this software solution, users can turn any computer into an audio streaming device.
The solution is capable of multiple audio and video capture, and of live switching of media sources including broadcasting the full desktop. HD Wave uses only minimal PC processing resources, so almost any PC with reasonable RAM and processor power will work.
Installed on HD TikiLIVE streaming hardware
Eyepartner Inc. includes HD Wave broadcasting software with its HD TikiLIVE Plug-and-Play Broadcaster streaming hardware. This audio and video streaming appliance provides users with an affordable, high-performance broadcaster that is easy to use for streaming live or recorded content.
HD TikiLIVE Broadcaster ships ready to plug-and-play so there are no installation hassles. The appliance uses EyePartner's advanced Turn-Key iPTV network solution that provides easily mounted hardware for connection to 480 or HD 720p , 1080i and 1080p devices.
With the addition of a broadband Internet connection, the unit is ready to stream live and recorded audio and video to online audiences. The hardware is suitable for over-the-top (OTT) iPTV setups in both Unicast and Multicast modes. HD TikiLIVE supports viewing on desktops, mobile devices and HDTVs and it has Flash FLV and H.264 video format compatibility.
The broadcasting solution uses the highly-intuitive HD Wave interface and it is useful for applications ranging from broadband streaming to mobile video/audio communications and cable news broadcasting.
Conclusion
Audio streaming software allows users to broadcast live or edited recorded audio over the Internet for prompt playback. The recipient does not have to download the entire audio file first before playback, but instead listens to the audio while it is downloading.
Streaming software solutions can differ quite markedly in quality and functionality, and HD Wave from EyePartner utilizes a highly capable, patent pending technology for high definition audio and video delivery. The system allows users to capture and broadcast audio from most personal computers or from EyePartner's proprietary streaming hardware.
With HD Wave, it is possible to stream the entire desktop or just a specific portion of it to share with viewers. The application supports sharing of videos, web pages and PowerPoint presentation files during live streaming broadcasts.
To find out more about HD Wave broadcasting software and the HD TikiLIVE Plug-and-Play Broadcaster, please contact EyePartner to speak with a technical representative. The USA phone number is 305.289.4557, while those outside the USA can call 305-455-8675. Please also visit our website at http://www.EyePartner.com/.
EyePartner has offered top-of-the-line streaming media solutions since 2007 with its home office based in Marathon, Florida.

If you want to receive the latest news in Video Broadcasting Industry please consider subscribing to eyepartner.com by Email or RSS Feed