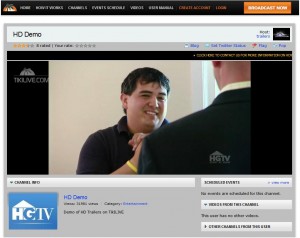 There are some things that you just can't afford to miss. There are even more things that you can't afford to have other's miss. It's not the same when recapturing moments and explaining what was. The beauty in each moment is captured in the now. The now is what adds to the human experience. We love to see things as they are, organically. Yes, we'll accept the edited version if we simply must but ultimately we prefer the raw and uncut. Just think, if all things had to be run through an edit before we ever had the chance to take a peak imagine how far behind we'd be. You can just picture it, can't you? Watching Super Bowl Sunday on a Monday afternoon. The mere thought of this brings an air of disgust. We want to see the fumbles and the false starts. We like to learn the score at the same time those in the stadium get it. Just face it, we just much rather be in the know and we want to know right now.
A few platforms caught on to the appeal of live in the recent years and now slowly but surely the asset of live video is catching on. Thank goodness we are a part of that wave. Thank goodness that right when it is becoming a necessity for us to have information hot off the press the market is catering to that need. Now that streaming video is catching on we are looking for ways to perfect the medium. We want to be able to use live streaming in the many facets of our life. This could potentially affect all of the ways that we acquire entertainment and information. We welcome the changes that come along with streaming live with open arms.
Streaming live events is only the beginning and it's certainly a great start. With this new wave of technology you can potentially stream an event from the comforts of your home to be viewed by a friend (or several friends, if you're lucky) hundreds of miles away. This ability and more is made possible with EyePartner's TikiLive. TikiLive is EvdyePartners HD broadcasting service which provides users with a comprehensive set of tools for producing and managing Live HD streaming content. With TikiLive users can broadcast (and view) streaming HD content from their computers through their very own branded channels.
Not only is TikiLive a top of the line streaming software, TikiLive also offers a platform for users to monetize their TikiLive content. You can set pay per view and Video On Demand prices for your TikiLive channels. With these methods of monetizing your content you can stream live events for a fee set at your discretion. Not only may you set pay per view and VOD prices, TikiLive also allows you to ingest commercials into your network and create direct marketing content for niche marketing. Build an interactive broadcasting network community under your TikiLive brand and watch the magic happen.
Streaming live events just got cooler with TikiLive. For more information about TikiLive or to sign up for your very own TikiLive account visit sales@tikilive.com today!

If you want to receive the latest news in Video Broadcasting Industry please consider subscribing to eyepartner.com by Email or RSS Feed