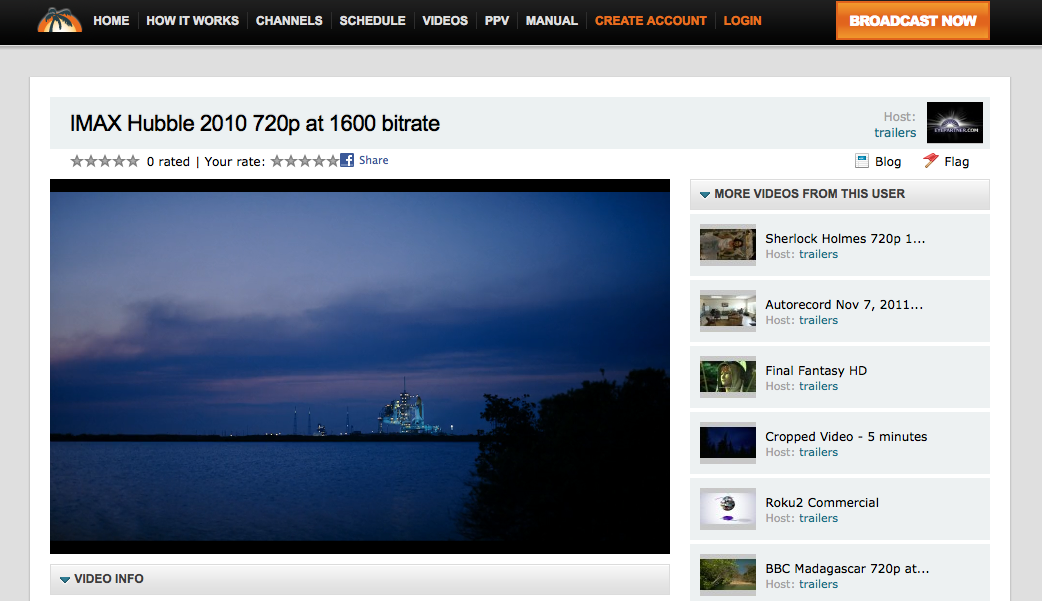 With the advent of ever-evolving technology, broadcasting has grown from simple analog configuration to the pristine world of high definition technology. Broadcasters and viewers alike are now privy to a constantly expanding viewing palate that can be filled with vivid creative content like never before.
As today's leading-edge broadcast and streaming delivery system, EyePartner has gone a step further with The HD Wave and TikiLIVE. Thanks to the brilliant technology of these two products, consumers have the ability to create personalized broadcasts that are affordable and easy to configure, capitalizing on their own creativity and vision.
The HD Wave
With an eye to versatility, The HD Wave is designed to deliver IPTV to computers, mobile devices, and even set top boxes. As the only high definition broadcaster on the market today that is built on video driver technology, The HD Wave is easy to connect while offering exceptional viewing capabilities.
Multiple Media Sources
The HD Wave offers multiple video and audio capture, including the ability to incorporate synchronized Skype video calls. With the ability to switch media sources quickly and simply, this delivery system also allows for full or partial desktop viewing.
Advantages
There are many advantages to using The HD Wave. One of the fundamentals is that users are able to instantly stream standard or high definition material to any part of their desktop. With this system, no extra components are needed other than a standard computer and video source or a camera.
Simplicity, Clarity, and Speed
Because there is no need for extra hardware, The HD Wave saves users money and time. With vivid high definition, the system delivers up to 60 frames per second, incorporates a smooth click and stream interface, and provides consumers with a simple application that gets the system up and running in no time.
The HD Wave allows HD media to be broadcast across multiple web and mobile devices quickly, providing viewers with instant programming. With its unique technology, The HD Wave creates high definition broadcasts at the lowest bit rates possible: 720p feed at 1.0Mbps or 1080p at 2.5Mbps.
Who is it for?
Whether you're a professional broadcaster, moviemaker, or a layperson interested in creating your own broadcasts, The HD Wave is for you. Ideal for broadcasting a wide variety of events, here are some examples of what you can deliver on your own broadcast channels:
• Entertainment
• Sports events
• Motivational seminars
• Medical conventions
• Engineering conventions
• iPTV (internet protocol TV)
and more…
Whether you are a business or an individual, The HD Wave is designed to help you save money and make money, or simply provide entertainment or information for your viewers.
Implementing The HD Wave with TikiLIVE
The Essence of TikiLive
Another one of EyePartner's innovations is TikiLIVE, the company's flagship HD broadcasting service. TikiLIVE provides easy-to-use web and video publishing tools that enable you to start producing, broadcasting, and managing live HD streaming content.
Creating Your Own Branded Channel
TikiLIVE allows you to broadcast, stream, and view HD content from a desktop computer through your own branded channel. This means you as the producer can create, administrate, and manage your own channel packages.
Setting Up Affordably
As the administrator of your own iPTV platform, you can set your own retail prices for the channels you create, or you can bundle them together to create specific entertainment packages for your customers. With TikiLIVE, you can do this at a mere fraction of the cost that it takes to set up a traditional network.
Efficiency
Using Middleware and Channel ManagerTikiLIVE's "Middleware" component allows you to manage your subscribers, track content owner royalties, and create financial reports. Additionally, TikiLIVE'sChannel Manager allows you to:
• Publish unlimited custom channels
• Arrange your media into a time line
• Create third party videos from YouTube into your show lineup
• Add and stream live high or standard definition iPTV channels to your video portal
• Add unlimited pre-recorded videos on demand (VOD)
• Stream live and VOD content on Facebook in high definition without the need for embedded codes by pasting the URL of your content into Facebook, creating a thumbnail for your link, and opening.
Providing Choices
Another advantage of using the TikiLIVE network is the variety of choices you have as a broadcaster. In addition to creating your own lineup, you can also switch to other popular third party broadcasting platforms if you prefer their features. Some of your options might be:
• Eyepartner HD Wave Broadcaster
• Adobe's Flash Media Live Encoder
• Telestream's Wirecast
• VidBlaster Broadcast
• NewTek's TriCaster
Easy to apply, you simply go to "recording settings" where you will find the "third party broadcaster" configuration. Download the broadcaster of your choice or copy and paste the broadcasting profile data and you are ready to go!
Versatility
Your Customized Electronic Program Guide
TikiLIVE provides consumers with an interactive electronic program guide (EPG) that is automatically populated with information on your licensed content. This allows you to broadcast content from around world and keep it organized for easy browsing.
Your Customized Website
With a user-friendly WordPress module, TikiLIVE provides domain mapping. This means you can create custom websites based on your content that can be published on your own domain.
Set Top Boxes
In addition to using computers and mobile devices for broadcast configuration, TikiLIVE allows for network streaming via Roku set top boxes. In this scenario, the system easily configures with your Ethernet connection instead of a cable or satellite.
By retrieving your content via your Internet connection, the system connects to a TV through a high definition multimedia interface, composite, component, or S-video cable for easy viewing. With TikiLIVE, you can also custom brand your set top boxes to match your network, allowing your brand to be visible to your customers.
Pay Per View
With TikiLIVE, you can direct your broadcast content to a Pay Per View configuration. Here you can bring in revenue through your ticket sales for VOD and live shows where viewers buy their tickets through Pay Pal Credits, which are then converted into cash payment.
Configuring The HD Wave with TikiLIVE
Using TikiLIVE to configure The HD Wave is easy and quick. All you need is a PC with sufficient power that supports Windows 7 and Vista Systems. Then:
•Register at TikiLIVE.com
•Create your personalized channel
•Download and install The HD Wave
•Download and install the new HD Wave Deskshare application
•Run the application
•Choose your video and audio
•Go live!
Any questions? Please feel free to contact us and let us help you find the best broadcasting solution for your needs.
For more information on The HD Wave and TikiLIVE, please contact us at:http://www.eyepartner.com/Or call us at: 305-289-4557.

If you want to receive the latest news in Video Broadcasting Industry please consider subscribing to eyepartner.com by Email or RSS Feed