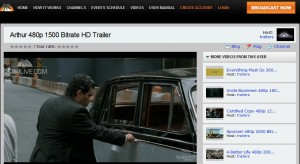 If you're currently on the market for professional software development services you will find the professionals at EyePartner.com to be the best in the business. Established in 1996, this professional software firm has been providing custom solutions while making ground as the leading developers in the emerging video market. EyePartner's provides a wide range of services and ready for setup software products for their customers. You may find great use of EyePartner's off the shelf software solutions or you may be more interested in customized solutions to tailor precisely to your professional needs.
EyePartner.com specializes in using pay per view videos, interactive advertising, IPTC and a variety of online solutions provided to get you on your way. The custom developed professional software provided by EyePartner focuses primarily on efficiency and user functionality. Gone are the days of standard generic software with blanketed applications, tools and functions (many of which do not tailor to your need). Generic software can aid to a great lack of productivity as you maneuver through unutilized and unnecessary standard software resources to get to the functions that may pertain to you and your business. EyePartner helps you to avoid the clutter. This company is well aware of the importance of time and efficiency in a successfully operating business. EyePartner has been working relentlessly, since inception, to remain on the cutting edge of technology. With EyePartner's stance on the cutting edge, they are afforded the means to offer customers the same quality.
No matter the profession, you want your software to be exceptional. You are looking for the software to perfectly suit the needs of the professionals, customers, clients and potential investors of your business. The greatest software for your business could change the operation and proficiency of protocol altogether. You want the professional software to be easy to use, accessible and most importantly, efficient. You want TikiLIVE.
TikiLIVE is Eyepartner's flagship HD broadcasting service which provides its users with a comprehensive set of tools for producing, broadcasting and managing Live HD Streaming content. With TikiLIVE, businesses can view and broadcast streaming HD content from their desktop through their own branded channel. This is the ultimate customization. All that your business needs to utilize this customizing platform would be an IP or web camera, a TikiLIVE account, and your business's desired content.
TikiLIVE allows the opportunity to stream live video feeds of original content that will be auto recorded and stored, to be accessed at anytime, as Video On Demand content. Your business can create an unlimited number of channels within your TikiLIVE network. Something you may be very interested in learning is that through TikiLIVE you may monetize your content! Feel free to set your own Pay Per View and VOD prices. Integrate advertisement into your video and even ingest commercials. TikiLIVE also encourages user to create direct marketing content for niche marketing. The possibilities with TikiLIVE as part of your professional software are endless.
You're probably eager to get started. If you have any questions or you would like any more information visit sales@eyepartner.com. Experts are standing by to assist you today.

If you want to receive the latest news in Video Broadcasting Industry please consider subscribing to eyepartner.com by Email or RSS Feed