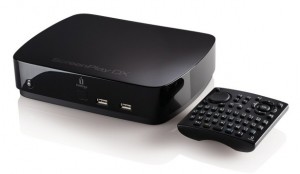 When it comes to bridging the very big gaps that can be created by both geography and shifting time zones, there is one tool which does it better than all the rest. That tool is a combination of powerful collaboration software and IPTV technologies that blend into a single, efficient video distribution platform that can be used to consumers and corporate users alike. This combination of real-time information sharing and on-demand video viewing is the perfect way to communicate with a large group of friends, employees, family members, or consumers, and our innovative platforms make it easier than before.
Communicate in High Definition Wherever There is a Screen
There was a time, not too long ago, when videoconferencing and online video sharing was a pixelated, distorted, and grainy affair, and most people hardly looked forward to the ways that these online videos would degrade both their personal appearance and the message they were trying to distribute. This technology was certainly an improvement over mere email or document sharing, but most corporate and consumer users simply weren't' willing to embrace it until they could bring a high level of quality to their video streams. That high level of quality is now available.
In fact, streaming video quality has improved so rapidly in recent years that Eyepartner's software enables high definition video in both live and pre-recorded capacities. This is due in part to the fact that our company has long been committed to high definition video streaming and distribution via IPTV channels. The company has its own IPTV network HD media player which is great for on-demand or live streaming solutions; video is passed through the company's own servers, using technologies as advanced as the Flash Media Server or Adobe Creative Suite products, and then delivered to the user without a single pixelated square inch.
When consumers and companies can communicate in pure high definition via standard IPTV technologies and channels, collaboration is easier; clearer video helps get the point across in a more effective way, and it reduces the chances for a mixed message or errant annotation.
High Definition Content Lends Itself to High Powered Collaborative Tools
An IPTV network HD media player is only as effective as the collaboration tools which are paired with it. For EyePartner's platforms, that is simply not an issue. Customers will have access to technology that makes it possible to distribute a live poll of attendee opinions during their meeting. This enables a consumer or business user to accurately judge the opinions and perceptions of those in attendance, and it'll help drive better content and better business ideas in the long run.
Beyond mere annotations and opinions, our software pairs its high definition IPTV-based video platform with real-time instant messaging tools. Those who are in attendance at a live meeting can communicate with others who are viewing the same video and discuss their own ideas, proposals, or concerns as they arise. It's much better than boardroom texting, and it requires no interruption of the meeting as it proceeds. This instant messaging is paired with document collaboration technologies that make it possible to share files between those users' computers which are currently viewing the meeting and are thus connected through the software.
Streaming in High Definition Isn't Free, but There's a Solution for That
With any innovative technology comes a certain price tag and, while many consumers and businesses will smile factor that price into their existing budget, others will seek to offset their costs with other budget cuts and lesser expenditures moving forward. This is a pretty big compromise, especially for a smaller business, but it's one that might not have to be made at all when choosing our server solutions over competitors' similar, more expensive offerings.
That's because, unlike many similar technologies, Eyepartner's solutions allow users to charge meeting attendees a nominal fee when entering a live or on-demand event. This is a major aspect of the EyePartner IPTV platform, which also enables one-time or recurring charges for access to content. It's a unique way to blend customer-facing video products with those which are more purely collaborative, and businesses will appreciate that they can earn back some of their expenses by encouraging their customers or fans to pay a small fee for access to exclusive content.
IPTV Network HD Media Player Technology Demands a Powerful Server
Any user in the business or consumer videoconferencing niches will be familiar with just how bad it can be to shop for a standard web host. Many of these companies simply lack the robust, present-day technologies and features which are required to host advanced websites and enable deep collaboration. That is not the case, however, when a consumer is looking into EyePartner as their solution to deliver high definition content in a way that most resembles IPTV services.
EyePartner only sells its software as part of a hosting package which is powered by Apache 2.x and mod rewrite technologies; the server also features PHP 5.x, which is a vast improvement over older versions of the popular open-source programming language. And, because streaming and on-demand high definition video often requires advanced media controls, the servers that ship with the company's products are already equipped with the Flash Media Server and numerous Adobe Creative Suite technologies for creating and uploading video on the fly.
Customization is a Key Element of High Definition Collaborative Streaming
Most businesses and consumers aren't okay with deferring the look of their video content manager to the company which provides the software. Yet, a large number of videoconferencing platforms ship with just one template and users find themselves unable to customize the appearance to their needs. That is not the case with the EyePartner platforms, which pairs live or on-demand high definition video with appropriately high levels of customizability.
Our platforms come with a default look, but we pair that default appearance with several pre-made alternative templates. Users can also dig right into the code and completely customize the appearance of their IPTV network HD media player on their own, fully branding it with their own personal or business message and cues. This helps to promote a brand message universally, and showcases the company or consumer user, rather than turn their collaboration into one big advertisement for the software platform they've chosen to get the job done.
Collaboration is Here to Stay, So Do it in HD
Given today's modern technologies, whether it's cloud-based remote data storage or high-definition video on demand, there's simply no reason for businesses or consumers to compromise the quality of their video or collaboration tools any longer. Gone are the days when grainy video and barebones whiteboard solutions were the epitome of "collaborative cool." Instead, customers need to embrace great picture quality, high definition IPTV-style content and distribution channels, and innovative, next-generation videoconferencing collaboration tools that can make an operation of any size into one which is global, accessible, and highly functional. Call 1-305-289-4557 or email sales@eyepartner.com today to let EyePartner help you accomplish all your video streaming needs.

If you want to receive the latest news in Video Broadcasting Industry please consider subscribing to eyepartner.com by Email or RSS Feed