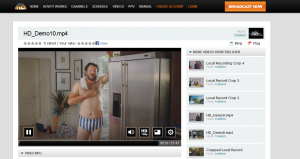 Ways To Stream Videos Online – TikiLIVE, The HD Wave, Monster Encoder
Streaming video is growing in popularity. Every business is finding ways to integrate streaming video with websites to enhance user experience. Whether streaming video for a live sporting event or to educate the consumer on a new product, concept or service, the tool is powerful and has brought new functionality to numerous websites on the Internet.
Streaming video has a powerful effect on people who are visual learners. These people love to be educated on products and services through entertainment or through intriguing video. If a video goes viral, a company gains instantaneous recognition and exposure through a low cost marketing vehicle. Streaming video has proven its value and worth within organizations.
EyePartner offers a suite of online streaming tools to facilitate the integration of streaming video to the Internet. Each product offered in the streaming video suite has features suitable for a variety of streaming video applications. Here are few examples of EyePartner's product offering:
Monster Encoder
For the highest quality finished video, try Monster Encoder. This streaming video technology features double-pass encoding to enable the high-quality video finish that EyePartner's customers have grown to love. Monster Encoder is capable of converting the most popular video files into MP4 of FLV format for compatibility with streaming video software.
There are no limitations on the size of the file uploaded or the number of files loaded with Monster Encoder. Select the videos desired and begin the conversion process for uploads. The conversion process is even customizable for people who need advanced functionality.
Many companies enjoy the ability to transpose the company's logo onto the videos featured on the website. The personalized touch is a marketing strategy to remind viewers to consider the product, service or sport in the future. The videos may also be customized to fit any aspect ratio, resolution and bitrate.
The prices for Monster Encoder are determined by the number of encodes in a 30-day period. Encodes describe the conversion process required to convert input data into a digital form. For instance, a user may receive 200 in a 30-day period for $250 per month or 1000 encodes per 30-day period for $500 per month.
TikiLive
To address HD broadcasting needs, EyePartner introduced TikiLIVE. This flagship product features a comprehensive set of tools to manage live HD streaming content. With TikiLIVE, users can create a personal or branded channel capable of streaming HD content through the desktop. TikiLIVE makes it easy to showcase video content on the web.
Companies employing TikiLIVE save money on production and on video sharing. TikiLIVE also provides the option of using analytics, pay-per-view and advertising solutions. Visitors' viewing habits and their locations will also be revealed. The information can be obtained through detailed tracking and can be used for marketing purposes. TikiLIVE saves companies money on marketing campaigns.
TikiLIVE allows companies to interact and directly connect with an audience. The embed codes help to make the video feed distributable to the public. The video can feature the interactive chat feature. Social media is also easily integrated with TikiLIVE. Facebook, Twitter and YouTube are each compatible with the live streaming video offered by EyePartner's TikiLive.
The best part about Eyepartner is that the company is also a hosting company. EyePartner can ensure a company's video stream is available on a 24 hour and seven day basis. This is a convenience most companies can appreciate and enjoy.
The HDWave
HD Wave instantly streams Live HD video without the requirement of any proprietary hardware. With HD Wave, users can share a specific aspect of their desktop or the entire desktop through streaming software. The choice is up to the user.
Many companies use HD Wave to share PowerPoint presentations or even web pages. The software can be used in conjunction with camcorders, webcams or DVD and BluRay players. HD Wave can also act as a conventional software encoder when combined with traditional video.
Video driver technology is used with this HD broadcaster. In fact, it is the only one on the market built on this type of technology. An off-the-shelf PC can use broadcast desktop view for images to be broadcast in HD 720p and also 1080i. Skype video calls can be synchronized with multiple video audio capture.
Media sources can be instantaneously switched with HD Wave. One great feature about HD Wave is that it does not require a great deal of PC processor resources to operate. This is a desirable feature for most companies. Customizable OEM 'White label´ is also available.
JamOnCam
JamOnCam helps individuals and businesses make a name in the live entertainment industry. This technology streams some of the highest quality video available. Since JamOnCam is aimed towards the pay-per-view market, the video quality must be exceptional. JamOnCam prepares its users to be successful in the world of live video and video-on-demand.
With this software, users can connect to sporting events, stream concerts and news feeds. The solution does not require extensive technical expertise and no download. This makes it easy for customers to set up a pay-per-view live streaming portal to generate revenue. A complete back office accounting system is also available to track payments made through the portal. Data analysis tools can also track viewership to help improve the product offering.
Streaming Video Online is Helpful in Business
Streaming video online is helpful in business. This method of communicating with customers has been proven to be effective for numerous years. The television commercial has evolved into an online commercial or educational opportunity. Streaming can sell a tremendous amount of product if the video goes viral.
Consider how streaming video online can propel your business forward. With exposure to new, targeted audiences, companies can gain new revenue streams and greater market share. Any of the aforementioned technologies will help companies with their streaming video needs.
The solutions are affordable and also easy to implement or integrate into a solution. Try a streaming video solution to improve your company's visibility and revenue streams.

If you want to receive the latest news in Video Broadcasting Industry please consider subscribing to eyepartner.com by Email or RSS Feed

If you want to receive the latest news in Video Broadcasting Industry please consider subscribing to eyepartner.com by Email or RSS Feed