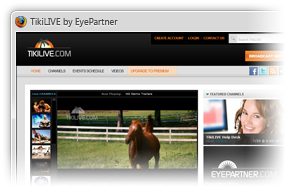 Streaming video has arrived and with it, the future of communication. It's simple to set up and operate, which insures its place in the Internet explosion. As a definition, streaming video is basically dedicated content sent in compressed form over the Internet and displayed by the viewer in real time. With streaming, the Web user experiences immediate viewing because there is no wait time to download a file to play. The media is sent in a continuous stream of data and is played immediately as it arrives. The user requires a player, which is a special program that 'uncompresses' and sends video data to the display and audio data to the speakers. A player can be either an integral part of a browser or downloaded from the software maker's Web site.
When considering streaming video, the most important step is to determine the best host company and the best software for your personal job. Here at Eyepartner we represent and provide the most accessible Global Information Technology Solutions, offering a suite of live streaming video applications and services. Virtually anyone can broadcast in HD (or SD) on their own branded channel using off the shelf hardware or in a professional grade studio environment with the Eyepartner flagship product TikiLIVE.
TikiLIVE has Arrived
We at EyePartner offer a suite of streaming video applications designed to facilitate the integration of streaming video to the Internet. Each product offered has features suitable for a variety of streaming video applications. TikiLIVE is our flagship HD broadcasting service providing users with a sophisticated set of tools for producing and managing Live HD streaming content. TikiLIVE enables users to broadcast, view and stream HD content from their desktop through their own branded channel.
The TikiLIVE platform effectively reduces the cost of producing and sharing online video content, and also provides the option of pay per view, with complete analytics and advertising solutions. TikiLIVE contains detailed tracking features which allow users to get to know their viewers by location and their viewing habits, which is an ideal feature for specialty and niche marketing. TikiLIVE is modern, it's evolving, flexible, fast and simple to use whether you represent a community, business or are an individual.
Live Broadcasting with TikiLIVE
TikiLIVE is designed to enable the user to customize and create their own channels. It has eliminated the many hindrances of the past, allowing consumers to create, produce, manage, and reap the benefits of their own broadcasting platforms. With growing complexities in broadcasting that come from the infinite variables in production options, there is even more need for streamlined and edited solutions. Consumers in the know recognize that the best hosting options are provided by a company dedicated to an evolving development department and where all production and technical elements are produced under one roof.
TikiLIVE video streaming solution provides the most cost effective platform to stream HD iPTV to an audience. TikiLIVE allows your audience to broadcast live with high-quality stream broadcasting tools while recording the event directly to steaming servers. Once the event is saved, it can be used as a video on demand media source that can be viewed, edited, archived and monetized as a pay per view event.
The complete TikiLIVE management system allows the user to control and direct your brand in your own personal style from your own point of view. Streaming content can be managed to generate revenue through custom branded channels. Sub sites can be replicated with an easy to use graphical user interface. TikiLIVE enables you to have as many live channels as desired and even charge a fee to each broadcaster that joins your network or as a pay per program system.
TikiLIVE as Media Distribution Platform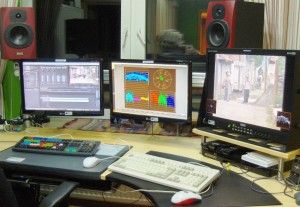 TikiLIVE acts not only as a broadcasting service providing tools for producing and managing live HD streaming content, but is truly a versatile media distribution platform. Media can be uploaded or broadcast; the "Monster Encoder" server farm can automatically transcode your video into the H.264 broadcasting HD standard. Your personalized broadcasting HD network is enabled with snap on modules linking social networks such as Facebook, Twitter and YouTube for additional exposure, interaction and reach. It's all there.
Social Media and TikiLIVE
The growth of social media as an influencing factor in our lives is truly breathtaking. Nearly a quarter of the total time spent online is on social networks. It is not just Facebook that's growing either – Twitter is adding half a million users on a daily basis. Your TikiLIVE profile can be linked into your Facebook account so your Facebook friends can see your live broadcasts and your uploaded Videos On Demand. Chat, messaging, and blogging are built into TikiLIVE, which allows viewers to comment on videos they see in real time. These functions can be integrated with Facebook, Twitter, MySpace, and virtually any other web platform. With Twitter, your audience can tweet while watching your live broadcasts, notifying their followers about your broadcasts and taking your videos viral. It doesn't matter if you are a part-time blogger, a small business, or a huge corporation – you have a brand. And if you have any interest in furthering your brand, you cannot ignore social media.
Broadcasting to Mobile Devices
The Smartphone, with its ever increasing technologies and internet speed, is the new kid on the block. It takes very little imagination to guess the value of this technology to live broadcasting in the very near future. Currently, our Mobile Device module for white-label TikiLIVE Broadcast Networks makes your content available at your audience's fingertips wherever they are. Videos On Demand are available for viewing on your mobile device, too.
TikiLIVE is about interacting and connecting directly with your audience, which is the very basis of communication. The ability to reach more people with products, presentations, information, entertainment, news and the arts is the present and the future yet to come. Live streaming facilitates this and is here to stay. EyePartner will continue to stay one step ahead in development to ensure production and features that satisfy the imagination with ease and facility.
Please let us know how we may help you with a custom broadcasting solution.
Let us help you create a powerful broadcast that reflects your dream, your brand, and your take on life. Contact us today for more information or call us at 305-289-4557.

If you want to receive the latest news in Video Broadcasting Industry please consider subscribing to eyepartner.com by Email or RSS Feed