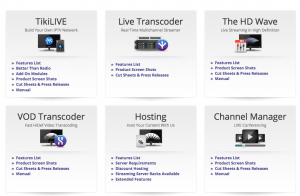 At Eyepartner we've been hard at work over the past few months releasing several new products and features that we're excited about. In the video streaming arena, it's important to always be improving and innovating and at Eyepartner we work hard to always listen to feedback from our clients and use it to improve our products and service. We like to think that our work is never done and we must stay vigilant to keep up with the changing technology to ensure that our products are always on the cutting edge.
New Products from Eyepartner
Updated Channel Manager
Our customers have been asking for a new channel manager and we delivered with a completely updated interface that is fully HTML5 compatible. Some of the features that should excite our users include:
Ingest Ads Directly into Your Playlists and Generate Income – If you have channels with high amounts of traffic, you should be monetizing your content. The new Channel Manager allows you to ingest advertisements into your playlists with ease. You can decide when and where your ads are placed giving you complete control over your content.
Create & Manage Playlists from your Mobile Device – No longer do you have to access your PC or Mac to update your playlists. Control your content right from your mobile phone or tablet.
Support Across Devices – Because of our full HTML5 support, our new Channel Manager is accessible across all mobile devices, set top boxes and even media dongles.
Redesigned Electronic Program Guide (EPG)
Aside from our new Channel Manager we've also completely redesigned our EPG to offer more features for your viewers. A few of the features that we're most excited about include:
Full HTML5 Support – At Eyepartner, we're committed to our droves of mobile users. For this reason our new EPG is fully HTML5 based, which means that users on mobile phones and tablets can access their programming as if they were in the comfort of their living rooms.
Easy Programming Searches – We heard from clients that wanted to easily be able to find their content from their programming guide. We've added improved search capabilities and also improved the speed of our EPG to give users a clean and smooth viewing experience.
Active Status Timeline – With this new EPG your users will have a TV-like experience where they can access multiple channels more quickly.
Eyepartner Focused on Delivering Feature Packed Streaming Solution
At Eyepartner we work hard to ensure that the needs of our clients are always met. Should you have any recommendations for new features, don't hesitate to reach out to our team by phone, live chat or email. We love to hear new feature requests from our clients and use these requests to help plan for the future growth of our platform.   As new features are released we'll continue to keep our clients in the loop to ensure that you are able to use and experience all of the new enhancements of our streaming software.

If you want to receive the latest news in Video Broadcasting Industry please consider subscribing to eyepartner.com by Email or RSS Feed