Each TikiLIVE License can be customized with a series of a la carte modules and access to core template files. TikiLIVE enables you to customize the platform to fit your business plan and audience.
You can choose to purchase ALL of the modules or decide to launch with a short upgrade your platform along the development cycle.   That's not all, we even offer financing, just ask CONTACT an Eyepartner Sales Representative
Digital Signage Content Management Software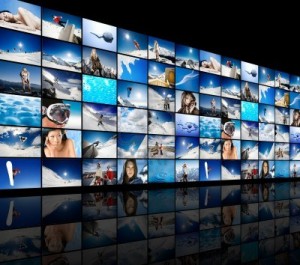 Digital signage is a growing advertising medium where businesses are able to display scrolling content and images on display boards of all sizes. These digital signs are great ways to show relevant information in a much more interactive fashion when compared to traditional print advertising. As the technology improves, more and more businesses are looking for ways to use digital signs to increase their business. Some of the more prominent uses of digital signs are listed below:
Menus – Restaurants are quickly realizing that digital signage is a great way to display their menus. Not only are digital signs attractive, they allow restaurant owners to easily change content in a moment's notice. With digital signage content management software, restaurant owners can quickly change all sorts of information on their signs. Think about how easy it would be for restaurant owners to change pricing information or add new products on a digital menu. Being able to quickly change pricing information based on the constantly changing price of supplies can help a restaurant stay profitable in such a tough industry. Digital signage also allows restaurants to show detailed pictures of menu items to give customers a sense of the type of food offered at their establishment.
Billboards – Another major use of digital signage are on high tech billboards. This type of digital signage has become quite popular over the past few years. Digital signs in the form of billboards allow businesses to not only advertise their business, but to also display certain information that could be useful to drivers cruising the Interstate. It is common to see digital billboards displaying the current temperature or displaying certain events that a company is promoting. State governments have picked up on the use of digital billboards and have started to use these billboards to display the ever climbing lottery winnings. This gives a huge incentive for those passing by to stop in to a convenience store to purchase a lottery ticket for their chance at winning the multi-million dollar jackpot.
Shopping Malls – Shopping malls are another place where digital signage can be plentiful. At shopping malls, store owners are always looking for ways to entice customers into their stores. With digital signs showing off store specials in an interactive fashion, it can encourage potential customers to come in and take a look at what a store may have to offer. At a shopping mall, stores must take advantage of any type of advertising possible due to the large amount of stores in most malls. With digital signage, stores are able to differentiate themselves from competing stores, which often translates into bigger profits.
Banks – When customers come into banks they are often looking to borrow money. The trouble with borrowing money is that rates can literally change multiple times per day. To combat the constant change in rates, banks have begun to use digital signage to show up to the minute rates on their loan products. With digital signage content management software, bank employees are able to change the rates on a digital sign in a moment's notice. This ensures that banks are not displaying or distributing rates that are incorrect. Inaccurate rates could result in unhappy customers when they realize that the rate they believe they are getting was misrepresented. Keep your customers informed with digital signage as opposed to antiquated printed rate information.
Airport Displays – Airports were one of the first users of digital signs. Think about the last time that you traveled by plane and did not see a digital display with airline flight information. Years ago flying was a much more intimidating experience because there were no digital monitors showing up to the minute flight information. Today, almost anyone can fly with the help from the information provided by digital monitors at major airports around the world. It is tough to remember airports without these useful devices.
Benefits of Digital Signage Content Management Software
Content management software for digital signage is really what makes digital signs such a viable options for businesses that are both small and large. A content management system allows individuals to easily control the content that is displayed on digital signs. Users are able to quickly change content, which is much different from traditional advertising. While the cost of digital signs may be more than traditional signs, the ability to change the content with ease makes up for much of the cost difference. With a content management system, you do not need to be a computer wizard to change the content on your digital signs. Content management software allows you to easily change the content of your digital signs from an easy to use graphical interface that should not take more than a few minutes to learn how to use.
TikiLIVE – Effective Content Delivery Network For Digital Signage
When you are looking to use digital signage in and around your business, it is important that you have the proper infrastructure to handle the needs which are required to feed digital signs with content. Using an effective content delivery network can ensure that your content will always be delivered to your digital signs and ultimately to your targeted audience.
While there are a wide variety of content delivery networks, few have the infrastructure and experience of TikiLIVE by Eyepartner. At Eyepartner, we have been a pioneer in the CDN marketplace and take the delivery of your content seriously. We realize that if your content is not delivered to your digital signage that your customers may not be satisfied. With a robust infrastructure that is able to flex with the demand of your business, we are ready to serve you in any way possible.
For more information on the wide variety of Eyepartner products including TikiLIVE, give our office a call at (305) 289-4557. Our technicians are standing by waiting to answer any of your questions about powering your digital signs with our cutting edge software. If you would rather reach us online you can fill out our online contact form or chat with us online.
White Label HD Wave Broadcaster
The HD Wave broadcaster enables its users to instantly stream LIVE in stunning HD quality without any propriety hardware. Use the HD Wave as a conventional software encoder with traditional video sources or capture devices such as webcams, camcorders, or DVD/BluRay players.
Stream LIVE events such as game tournaments, IPTV stations, world premier movies, live concerts, faith based services or corporate events to anyone in the world with the ability to auto-record.
Pay-Per-View solutions enable your content producers to monetize LIVE and VOD events. You simply set the ticket price, plug in your video and audio source and start broadcasting.
Combine the HD Wave with hour HTML5 playback modules to stream to any device with both HTML5 and Flash based players simultaneously. Your Device will dynamically choose whichever player it is compatible with.
White Label HD Wave Desk Share Picture-n-picture
Ability to capture video and audio sources as well as the ability the ability to stream picture and picture.
Using picture and picture, you have the ability to make your screen as big or small as you want.
Share your entire desktop or snap to a specific zone and stream only a portion. Sharing video, PowerPoint presentations or web pages has never been so easy.
The HD Wave enables our users to instantly stream any part of their desktop in either Standard or High Definition with the ability to auto-record!
This application is a simple to use click and stream interface. Broadcast desktop view in HD 720p and 1080i using off the shelf PC.
You also have the ability to chat with your audience
Pay Per View Module
Ability to charge for events/channels/clips/VOD
Allows for a "hold back" fee to monetize each channel
Charge any account
Package Management Module
Offer to sell channels per user
Bill TV Stations monthly for use of your network
Track back and report transfer / storage to each TV Station
Advertising Module
Display and report on Pre-roll in player advertising
Display and track lower third "slide up" text or image advertising
Displays and track flash or html banners placed in "zones"
WordPress Module
Combine the power of your platform with the flexibility of WordPress for a one-of-a-kind site!
Stand out from your competition by offering broadcasters with a completely customized, easy-to-use WordPress site where they can sync their content from your platform.
Your clients can promote their brand by using their own custom web address. No expensive webmasters needed!
Build Online Presence and increase search engine rankings!
Populate your clients site with search engine-friendly blogs that help them reach page 1
Take advantage of social media platforms like Facebook and twitter by adding their profiles and fan pages to their site
TikiLIVE LMS Module
Whether you are a teacher trying to teach students all over the world, a tutor educating your students or just trying to train someone in your industry, TikiLIVE LMS Module is the perfect fit!
With the ability to create new lessons while adding courses creating an entire curriculum for your audience to educate themselves.
When the student passes the first lesson, they will then be allowed to take the next one until they have finished the course.
Integrate videos into your lessons with the ability to broadcast LIVE in HD!
Share your Desktop along with the classroom all in one stream!
Schedule LIVE Classes where your students can participate giving them the feel as if they are in the classroom but in the comfort of their own home.
Ability to group the lessons together to set a price
Allow your audience purchase a lesson a la carte
Ability to offer a monthly subscription allowing your audience to access your selected lessons.
Sub-User Management Module
Create your own organization (broadcaster account) and set permissions for your sub-users to manage the content by uploading, encoding or cropping it to your specifications. The sub-users will help you monetize your content by fully managing the videos, channels and events.
We have integrated an amazing reporting system allowing the admin to see what the broadcasters earned with the ability to view the profits made by you along with payouts.
HTML5 Mobile Module
Ability to view broadcasts on iOS & Android devices
Serve LIVE & VOD content in mobile compatible formats
Channel Manager Module
Create unlimited channels
Drag / Drop simple interface
Create / control digital signage to any location with Internet
Middleware Billing Module
Set-up monthly pay per view rates per channel with shopping cart
Allow for subscribers who pay different rates unique access levels
Easily offer and upsell members from one subscription to the next
When you purchase the STB Module, you will have the ability to:
Offer Pay Per View via STB
Setup channel packages
Optionally offer content from EP Central Teleport
Offer content via IP from any TV Station configured W/HDWAVE
Set Top Box Module
Compatible with White Label boxes
Allows for you to provision channels on STB including VOD / Live
HLS HTML5 Channel Manager Module
Allows users to build unlimited scheduled programming for playback on Roku Set top boxes (over 3 million homes in USA alone) and HTML5 compatible players including iPad and iPhone
Drag – n – drop easy to use interface
Cropping Editor allowing to trim and edit the timeline
Drop in Advertising placements fast and easily
Start building your own TV station with unlimited channels
Streaming capacity is unlimited when using Eyepartner Tier1 service combined with Level3 CDN delivery
Now anyone can be an "Over the Top IPTV operator while distributing scheduled programming worldwide".
EPG (electronic Program Guide) Module
Automatically populated with channels and upcoming programs
Easily schedule content to be recorded for catch up TV
Select Record ALL to access all programming for 30 days or more
Capture as much or as little of the program that suits your needs
IP Camera Streaming Module
Ability to publish IP (Axis) cameras to channels
Complete reporting on live streaming
Multi Language Module
Ability to create identical templates of your website where each individual field can be re-written into another language.
A "dictionary" is created in the account dashboard where the field-specific text is in rows and all of the languages offered appear in columns.
Changes can be made to one language without affecting the others.
A site visitor simply clicks on the flag for the accompanying language and the entire site switches to that language.
Viewer Analytic Module
Analytic tools which record viewer habits and statistics for every channel.
View the daily, monthly and yearly bandwidth spent and number of viewers for your channel at anytime by accessing the Statistics in your Dashboard.
Match up the content with the appropriate marketing messages to deliver the best ROI to your sponsors.
Detailed tracking allows broadcasters to get to know their viewers by location and viewing habits; ideal for niche marketing.