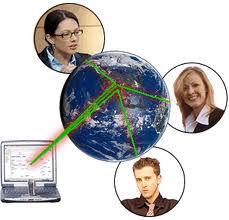 One thing that has become perfectly clear in recent years is that the traditional enterprise office setting is no longer traditional at all. As more and more consumers purchase smartphones and move their documents, data, and even workplace to the cloud, businesses around the world are looking for an effective way to communicate with a workforce that is increasingly distributed throughout a single country or the world. Many of those companies have tried traditional videoconferencing, which permits live communication between a large number of employees, but they've walked away disappointed at just how limited this technology is. Indeed, the global nature of the modern economy dictates that a difference in time zones, working hours, and other considerations might make purely live communication unfeasible for most global enterprises.
The solution to the traditional videoconferencing problem lies in a platform that understands a balance must be struck between live interaction and on-demand video viewing; the solution to limited collaboration lines in a platform that encourages interaction, notation, and the free sharing of ideas and documents. Businesses have been pining for a solution to their videoconferencing problems for the past few years, and finally one such solution has come to the marketplace.
TikiLIVE: An EyePartner Product that Solves the Global Disconnect
Live videoconferencing tools were innovative when they first debuted, but they have since become an inconvenient reminder that globalization and out-of-office employees can be hard to manage in the span of just one hour. Most businesses now find themselves skipping their live meetings altogether, or hosting multiple videoconferences to cater to different groups or locations of workers. This is fine, but it's not ideal — especially in the business world where time is most definitely money.
EyePartner has long been known as a global leader in on-demand video products, including its dedication to independent IPTV channels over broadband connections or set-top boxes. It has made a name for itself in the consumer communications and collaboration market, where numerous people enjoy the company's high-technology servers and convenient distribution channels. With TikiLIVE, those technologies are now made both affordable and practical for the average enterprise environment who has diverse and unconventional communication needs.
The TikiLIVE video distribution platform enables and encourages the occurrence of live videoconferences among a large number of users. But, much unlike many present-day solutions, it also allows for the recording of those conversations. They can then be distributed to a much larger base of employees or customers via an on-demand video platform that is available on traditional sites. There's no need to install any software to an employee's computer or provide them with any non-traditional credentials in order to access this information. Instead, they'll simply need a desktop or laptop computer, a functioning Internet connection, and a free block of time to view the discussion that they missed earlier in the day.
Collaboration is as Important to Eyepartner as it is to Enterprises
The key thing about Eyepartner's video platforms is that they aren't solely as a way to distribute live or prerecorded video to an enterprise's base of global employees. That is certainly where its roots lie, but the software solution itself is much more broad an innovative than its videoconferencing highlights. In addition to live or on-demand video, Eyepartner's platforms support the live distribution of, and voting on, company polls. This is great way to judge how those involved in the conference feel about any new changes, strategies, or policies, and it will help keep the business on track during the meeting.
At Eyepartner, we seek to offer customers capabilities that allow you to annotate and demonstrate the content of your meeting while you talking about it and discussing it with those employees who are involved. This whiteboard can be distributed with the on-demand video, as well, which means a distracted employee will never be out of the loop when it comes to the latest topic of discussion or the latest strategy that is being debated.
In a nod to the increasing popularity of cloud-based file sharing and data storage, customers engaged in a live videoconference can exchange files between their computers so that their fellow attendees can view their work, comment on it, and voice any concerns or questions that they might have. This usually required a separate, third party collaboration form a different software vendor, but the development team at EyePartner has now promoted a strategy of convergence which allows businesses to operate just one piece of software to accomplish all of their collaborative needs.
Customers Can Join the Discussion, and Companies Can Charge Them for It
We know that enterprises sometimes wish to communicate directly with their customers via either a live or on-demand conference or presentation. Most businesses will do this for free, but a select group of those businesses actually prefers to charge for exclusive access to company information and product demonstration. This essentially is the equivalent of an online keynote, convention, or public meeting, and companies should be allowed to charge a nominal fee for entrance just as they would in the offline world.
This is not possible with many competitor software solutions, but it is possible using our software. Companies can set an arbitrary price of "admission" to either a live or on-demand corporate event, and then alert customers that they're more than welcome to attend if they're willing to pay the preset price. This turns Eyepartner's software not only into a collaboration and communication tool, but also into one which can boost enterprise revenues periodically throughout the year.
A Server That Does Not Compromise on Technology and Features
Whether it's hosting consumer-grade products or those designed for enterprise customers, EyePartner has never been one to pair its innovative technologies with lackluster servers and web hosting options. That is certainly the case when it comes to the servers which power our corporate collaboration solutions. Enterprise customers enjoy access to a server which is powered by current-generation Apache 2.x software and all of the advanced features that come along with our platforms.
They'll also be treated to PHP 5 with mod_php enabled, and they'll get access to the Flash Media Server and a plugin hook for Adobe LifeCycle Data Services. This will all be backed up by a MySQL database and several video technologies that increase the viability of on-demand live videoconferencing solutions.
A New Generation of Enterprise Communication
There's no denying that the business world is increasingly global and well distributed, with employees finding themselves in new locations and time zones on a regular basis. The best way to link these employees is through a tool that combines real-time communication and collaboration with on-demand viewing, learning, and file sharing tools. When these powerful features are combined into a single, customizable content distribution solution, the geographical space between an enterprise's employees becomes a mere footnote, and their work once again becomes a central focus of the business.
Enterprise customers have long settled for subpar videoconferencing and collaboration technologies. With this new generation of software and features, led by the EyePartner server solutions, settling is no longer required when doing with a national or global workforce. Contact us today to let EyePartner help you accomplish all your video streaming needs.

If you want to receive the latest news in Video Broadcasting Industry please consider subscribing to eyepartner.com by Email or RSS Feed

If you want to receive the latest news in Video Broadcasting Industry please consider subscribing to eyepartner.com by Email or RSS Feed